Motorola Moto G3 (3rd Gen) vs Moto G2 CPU benchmarks – Geekbench 3, Vellamo 2/3 and AnTuTu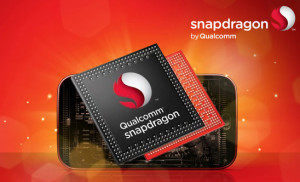 Just recently we showed you a number of GPU benchmarks which didn't really impress us, and we were hoping CPU performance would be a different matter. While the Adreno 306 is downclocked to 400 MHz (G2's Adreno 305 runs at 450MHz), the Cortex-A53 cores in G3's Snapdragon 410 have a frequency of 1.36GHz – 13% higher than the 1.2GHz Cortex-A7 cores in G2's Snadpragon 400.
Just as S400, Snapdragon 410 is constructed through a 28nm process. It features an Adreno 306 GPU, instead of the Adreno 305, and supports LPDDR2/3 533 MHz Single-channel 32-bit (4.2 GB/s).
Follow us for more interesting info on the matter and don't forget to come back to LaptopMedia.com on the 28th of July so we can watch and discuss the Motorola event together. Right after the event, we'll publish our Motorola Moto G3's detailed review – we have a lot more interesting tests to share with you and we can't wait to do it.
Check the current price of Motorola Moto G (3rd Gen, 2015) here:
http://amzn.to/1LeTA6Y

Moto G3 – Geekbench 3
Geekbench 3.0 is Primate Labs' cross-platform processor benchmark which simulates real-world scenarios and produces a combined score based on integer, floating point and memory performance results.
Total score: 1640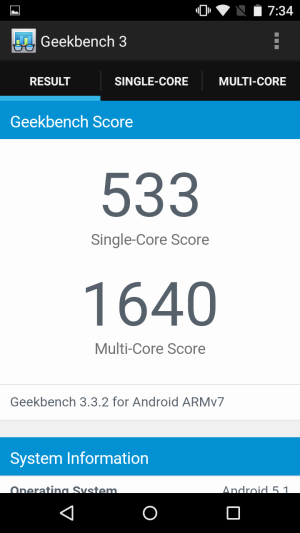 Moto G3 – Vellamo 2 Metal
Vellamo 2 Metal measures the CPU subsystem performance of mobile processors.
Total score: 675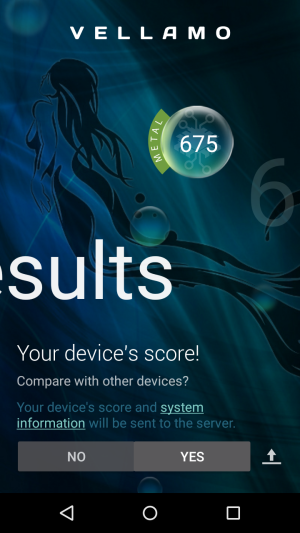 Moto G3 – Vellamo 3 Metal
Metal 3 is the latest version of Vellamo's CPU benchmark.
Total score: 906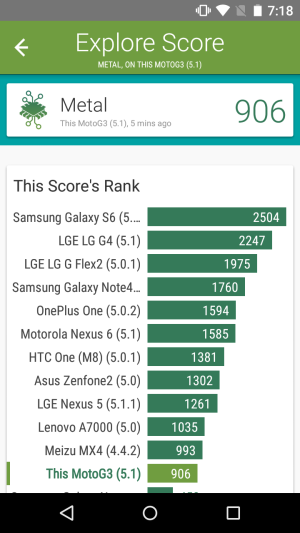 Moto G3 – AnTuTu 5
Total score: 23258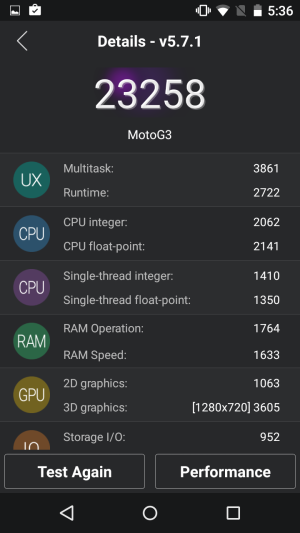 Moto G3 – Pi (π) calculation
We'll conclude our tests with a tough pi (π) calculation of the first 10 million digits of the mathematical constant. This is a good indicator of the raw CPU performance of all cores. Moto G3 (3rd gen) managed to complete the task in 47.9 sec – a huge advantage over G2 (67.4 sec).

Comparison vs Moto G2 (2nd gen)
Geekbench 3
Vellamo 2 Metal
Vellamo 3 Metal
AnTuTu 5
Pi – 10 mil. (lower is better)
Motorola Moto G3 ([email protected])
1640 (

+40%

)
675 (

+31%

)
906 (

+44%

)
23258 (

+20%

)
47.943 (

-29%

)
Motorola Moto G2 ([email protected])
1174
514
627
19335
67.427
Check the current price of Motorola Moto G (3rd Gen, 2015) here:
http://amzn.to/1LeTA6Y