NVIDIA GeForce RTX 4050 (Laptop, 45W) in 43 gameplay videos with benchmarks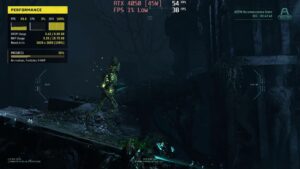 Finally, gamers on a budget should be excited because the new NVIDIA Ada Lovelace GPUs meant for the masses are here. In this article, we'll show you 43 gameplay videos with benchmarks of the NVIDIA GeForce RTX 4050 (Laptop, 45W). Compared to its predecessor, the RTX 3050, the new one has 6GB of GDDR6 RAM which is a great advantage over the older GPU.
As we already said, we got the 45W version of this little fella and we are quite impressed with its performance. In many games, the new video card can outperform the GeForce RTX 3050 Ti (Laptop, 95W) and that's great news because the latter has a 50W bigger TGP.
Let's give you some examples – in Cyberpunk 2027 the 95W version of RTX 3050 Ti can show around 47FPS on Ultra quality while the 45W new kid on the block can deliver 52FPS. Newer and heavy games like Rerurnal are not a problem at all for the RTX 4050 (Laptop, 45W) –  63FPS on High and 54FPS on Epic quality is just mindblowing for an entry-level RTX 4000 GPU. So, we are super hyped to see what a high-powered variant of the RTX 4050 (AD107) can deliver in terms of pure performance. You can have a look at all the gameplay videos in the playlist below:
https://www.youtube.com/playlist?list=PL5tfZxOrEucGZwltaIUFbYN1pDbq2hf33
As always, if you like our videos, please subscribe, hit the notification bell, leave a comment, a thumb up, or share whatever you like.
More great videos are about to come so stay tuned:
LM Benchmarks YouTube channel
All laptops equipped with the NVIDIA GeForce RTX 4050 [45W]