One-Netbook One Mix 3 Pro is an outstanding laptop with 8.4″ IPS, Core i5-10210Y, 16GB RAM and much more (now on sale – $939.99)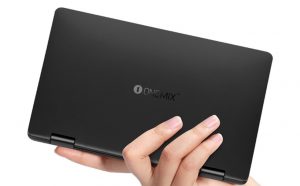 Laptops are much more compact than any desktop PC but sometimes even the smallest notebook can't fit in your bag that is full of other stuff too. In moments like this, we can ask ourselves "is there even more compact device"? The answer is – yes. Nowadays you can have a very small and at the same time a powerful laptop that has everything that a normal-sized one can offer. Plus, most of the so-called pocket laptops have a touchscreen. One-Netbook One Mix 3 Pro is like a small dream machine – it can fit in the pockets of your jacket and it's powerful enough for office work, watching high-quality videos, and playing casual games.
Check out One-Netbook One Mix 3 Pro on Geekbuying HERE. You can use our Mix3Pro [Price: $939.99] coupon code and save 20 bucks off the initial price tag.
What a little notebook it is. The screen is 8.4″ (IPS) and it has a touchscreen function too. By the way, 8.4″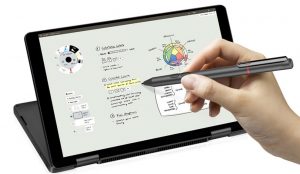 is a standard size for a tablet but 99% of them don't have the hardware of this beast. The screen has a resolution of 2560 x 1600 pixels (this is exactly 2K res), and it's an IPS one so the viewing angles must be decent and the colors have to be crisp. Because of its high-dpi screen, writing and editing documents must be an easy job.
Thanks to its innovative 360° hinge you can transform the device into a tablet or laptop with one simple move. The so-called laptop mode is suitable for office stuff – the backlit keyboard will allow you to write even in a full-dark environment (there is an integrated infrared pointing mouse too). The tablet mode is best for content creating or when you want to have some fun with casual games and YouTube videos.
Speaking of the hardware – on the inside we have a Core i5-10210Y – this is an Amber Lake Y CPU (released on Q3'19) with 4 cores and 8 threads, 6MB cache, and 4.00 GHz max turbo frequency. The iGPU is Intel UHD Graphics 615. This hardware is fitted in a 14.9mm profile. Multitasking is not a problem for our little fella, you can execute many tasks simultaneously without hiccups – we have 16GB LPDDR3 in this thing. Nice, 16 GB of RAM in such a small PC – this is the recommended RAM size for a modern gaming computer, and right now we are talking about a pocket PC.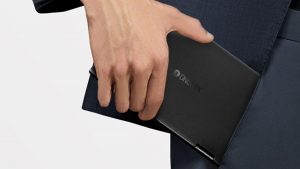 We will speak more about its hardware. There is more – 512GB PCIe SSD. Yes, the size is great and it is an NVMe one, so you can enjoy blazing-fast sequential read-write operations. Battery size is huge for a device like that – 8600mAh. That means long autonomous work. On board we found a dual-band 2.4GHz / 5.0GHz Wi-Fi which is nice to have in such a small machine. Fingerprint recognition will help you unlock your device fast, without entering a password.
The latest genuine version of Windows 10 is pre-installed, so you will be always updated with the latest software patches and new features directly from Microsoft.
One-Netbook One Mix 3 Pro really rocks. So much power and features are mixed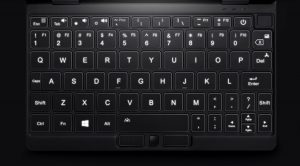 together in such a small shell. Core i5-10210Y is "ticking" inside, alongside fast NVMe SSD, 16GB RAM, and Intel UHD iGPU. The IPS screen is great with its high pixel density (358 ppi) and 2K resolution. With the hinge, you can have a laptop (with a backlit keyboard) and tablet whenever you want. Having fun and doing some important things at the same time is possible thanks to the duality of this device and the strong hardware inside of it (good multitasking). Things like the included stylus, a pre-installed version of Windows 10, and large battery capacity are complementing the whole picture.
The total weight is just 650 grams and it will fit in your pockets. Wow, a verdict – we like it a lot, a highly recommended product from us.
Check out One-Netbook One Mix 3 Pro on Geekbuying HERE. You can use our Mix3Pro [Price: $939.99] coupon code and save 20 bucks off the initial price tag.