Qualcomm Snapdragon 615 vs Huawei's HiSilicon Kirin 620 – benchmark performance comparison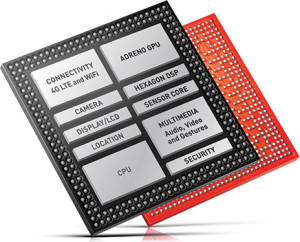 Qualcomm Snapdragon 615 is one of the most popular System-on-a-Chips on the market right now and is mostly used in the upper mid-range class. This is one of the first Qualcomm 64-bit processors and has 8 cores divided into two clusters (2×4), the purpose of this being to maintain a better balance between power efficiency and good performance. All of the cores are Cortex-A53 (the successor of Cortex-A7), but the four high-performance cores are usually clocked at 1.7 GHz, while the second set of four is limited at 1.0 GHz, thus avoiding battery drain.
Snapdragon 615 is constructed through a 28nm process, features the Adreno 405 GPU, 2x 32-bit memory controller (LPDDR3-1600, 12.8 GB/s) and supports Wi-Fi (802.11ac), Bluetooth 4.0, UMTS, and LTE.
You can find detailed information about Snapdragon 615 in this PDF:
https://www.qualcomm.com/documents/snapdragon-615-processor-product-brief
On the other side of the fence we have the HiSilicon Kirin 620 (you can expect a detailed Huawei P8lite review soon), which is also built by means of a 28nm construction process and has eight Cortex-A53 cores. All of Kirin 620's cores have an equal frequency of 1.2GHz and work simultaneously (if an app can effectively use them). Naturally, Kirin 620 doesn't use Qualcomm's own Adreno 405. Rather, it makes use of an ARM Mali-450 MP4 at 700MHz. The Huawei chip supports 13MP cameras, 1080p HD video encoding and decoding, 4G LTE cat.4 and works with LPDDR3 12.8GB/s memory.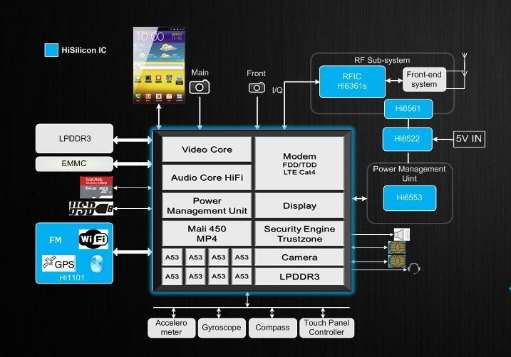 Let's pit them against one another with our CPU tests.

CPU Performance
Vellamo 2 Metal measures the CPU subsystem performance of mobile processors. Metal 3 is the latest version of Vellamo's CPU benchmark. Geekbench 3.0 is Primate Labs cross-platform processor benchmark which simulates real-world scenarios and gives a combined score, based on the results of integer, floating point and memory performance.
SoC
Vellamo 2
Vellamo 3
Geekbench 3
Qualcomm Snapdragon 615 (Alcatel OneTouch Idol 3)
801
1066
2006
HiSilicon Kirin 620 (Huawei P8lite)
765 (

-4%

)
1076 (

+1%

)
2805 (

+40%

)
Pi (π) calculation
We'll conclude our tests with a tough pi (π) calculation of the first 10 million digits of the mathematical constant. This is a good indicator of the raw CPU performance of all cores. The Kirin 620 chip has an advantage here, completing the calculation in 39.709 seconds. Qualcomm Snapdragon 615 managed to do that in 45.095 seconds, or 14% slower.