Quick look at CUBE iWork8 Air Tablet PC – quad-core processor, 2 GB of RAM and IPS display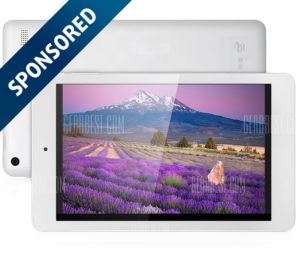 Most of us are preparing for their summer holidays and the question arises as to what gadgets can we take to the beach. For some of us a smartphone screen may not be big enough for social media interaction, watching some favorite movie or playing games, while sunbathing. This is why you may want to take a tablet with you. You don't have much money to spend? Don't worry, our partners from GearBest have a solution for such cases, it's name is CUBE iWork8 Air Tablet PC.
If you are interested in this tablet, you can check its detailed specs, price and availability HERE.
This tablet will surprise you with a quad-core Intel CPU (Cherry Trail Z8300), Intel HD Graphics (Gen8), 2 GB of RAM and 32 GB of internal storage. Additionally, you get the chance to benefit from both Android 5.1 and Windows 10.
You can also check out these offers by Cube: http://goo.gl/nY2Ebw 

Design
CUBE iWork8 Air uses simplistic design language with white as the dominant color. The front side has no buttons and the two noteworthy aspects there are the 8-inch IPS (1920 x 1200 p) display and the front-facing 2MP camera. You will be happy with good viewing angles due to the nature of the IPS panel, and the 2MP camera will be decent enough for some skype video calls.
Additionally, there is a sort of silver lining that goes around the sides which are slightly chamfered. On the right you will find the Power button and volume controls, as you might expect. On the other hand, however, the top side is quite interesting – it provides a Home button, 3.5 mm headphones jack, microSD card slot, microUSB port and a micro HDMI port. As far as the back is concerned – you have the same white plastic with interesting texture and some delicate text with product information. Also available is a 2 MP camera in the upper left corner, while the upper right offers a stylish loudspeaker grill.

Hardware and Software
For $82.99 this tablet will surprise you with what hides inside. This combination of a quad-core Intel Cherry Trail Z8300 CPU and Intel HD Graphics (Gen8) GPU allows you to enjoy some moderate gaming. Furthermore, there are 2 GB of RAM and 32 GB of internal storage which means that you can multitask and download a lot of favorite movies, tv series and songs.
Another fascinating feature of this affordable tablet is the dual OS. If you enjoy both Android and Windows experience but don't want to carry two different devices, this is the solution for you. An 8-incher combines both systems so that you may be happy. If you want to know more about the features of this device, as well as its price and availability, you can click HERE.

Specs Sheet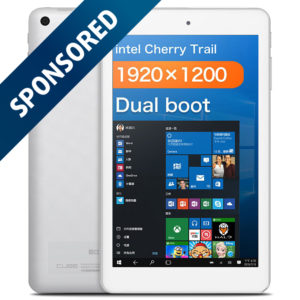 OS
Android 5.1 + Windows 10
CPU
Intel Cherry Trail Z8300 64-bit (4-core, 1.44 GHz – 1.84 GHz)
RAM
2 GB
Internal storage
32 GB (eMMC)
GPU
Intel HD Graphics (Gen8)
Display
8.0-inch WUXGA (1920 x 1200) IPS display
Connectivity
Wi-Fi 802.11b/g/n, Bluetooth
Cameras
2MP (rear), 2MP (front)
Features

microSD card slot, supports up to 128 GB
microUSB port
micro HDMI
integrated loudspeakers
integrated microphone
3.5 mm headphones jack

Battery
3500 mAh
Dimensions
21.30 x 12.70 x 0.98 cm
Weight
0.314 kg
Gearbest is running a flash sale with great promotions – check it out here: GEARBEST Flash Sale