The new Lenovo Ideapad 720s is safe to use for long periods of time (PWM report)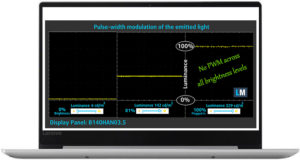 We are pleased to say that the Lenovo Ideapad 720s features an excellent IPS panel with little to be asked from. And luckily, PWM isn't an issue here.
You can find the available configurations here: http://amzn.to/2wCa3nk
According to our tests, the screen doesn't use PWM across all brightness levels so you can enjoy your favorite movies after work without worrying about eye strain.
But if you want to completely protect your eyes, we suggest using our custom Health-Guard profile that reduces the negative blue light emissions while keeping high color accuracy as much as possible. We also suggest checking out our PWM ranking table if you want to find other PWM-free alternatives.