Top 5 best-selling laptops at LaptopMedia [November 2019]
November is here and the sales are on. Christmas holidays are coming too so if you want to buy a notebook as a present for someone you have to spend several hours searching for the best device. We are here to help and to save you some time. Here are our Top 5 best-selling laptops for this month, and maybe among them, you can find the right one for your needs.

#5 Acer Predator Helios 300 15″ / 17″ 2019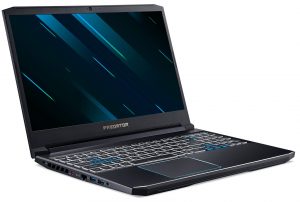 That Acer Predator, what a great device it is. It's even hard to find its drawbacks. This laptop has some genes from the Triton series. That's why the look of it is more than appealing. It has more aluminum in its build than its predecessor. The weight is just 2.19 kg so it's a pretty mobile device for a gaming laptop. There is more – optional backlit keyboard with long travel (and a bit clicky feedback) and big arrow keys (racing fans' favorite thing).
One of its gaming features is the PredatorSense button – touch it and the FPS will get higher because it ramps the fans inside of it at 100%. Which also means – temps down, noise up, headphones – on. If you choose the 144Hz display (BOE NV156FHM-N4K) you will be pleased with its response time and good colors. It's also PWM-free so your eyes will be safe.
The battery is the other strong plus, we measured almost 7 hours of web browsing and 5 hours and 42 minutes of video playback – If you are taking your laptop with you outside often the Acer Predator Helios 300 15″ is a good choice for you.
You can have it with powerful enough Core i7 / i5 CPUs, and with video cards from GTX 1660 to RTX 2070.
Well, there is no Thunderbolt support and no SD card reader, but if you use it for gaming we doubt that you're going to miss those features.
Read our detailed review here: Acer Predator Helios 300 15 (2019)
Acer Predator Helios 300 configurations:

#4 ASUS G531
ASUS G531 – the choice here is based on its price tag. It's hard to find a gaming notebook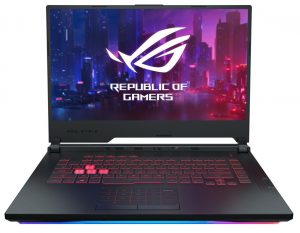 with Core i7-9750H and 512GB SSD for sub $1000. Also, it's very hard to find a laptop with so many RGB lights, the RGBs are everywhere, literally.
You may also like the special "Num Lock" touchpad, a nice feature. Keep in mind that there are other competitors which can maintain higher GPU frequencies like Acer Nitro 7 (AN715-51).
The 120Hz IPS panel (Sharp LM156LF-GL02 NCP0042) will be more than enough for the gamers, especially because there is no usage of PWM with this screen. Unfortunately, it only covers 57% of sRGB color gamut. Speaking of disadvantages, again, this laptop doesn't come with Thunderbolt support and SD card reader.
Read our detailed review here: ASUS ROG Strix G531 review
ASUS G531 configurations:

#3 Lenovo ThinkPad E590 / E595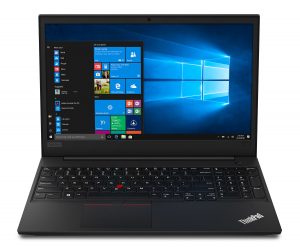 Lenovo and its ThinkPad machines are known for their simplistic and recognizable design, this one is no exception. The keyboard is very good with long key travel, comfortable for type on. Yes, this time we have a business-oriented device. There is also a red TrackPoint with dedicated buttons above the touchpad. The keyboard is getting a bit hot under long loads but no one is perfect.
The screen (LG LP156WFC-SPDB LEN40BA) is PWM-free but has poor RGB coverage, just 54%. The laptop supports two M.2 PCIe NVMe (or SATA) SSDs.
The battery life is pretty good – 10 hours of web surfing and more than 8 hours of video. This is a device that can survive more than one business meeting without getting out of juice. Business is business, but if you want to play some light games the AMD Radeon RX 550 will do the job.
Read our detailed review here: Lenovo ThinkPad E590 review
Lenovo ThinkPad E590 / E595 configurations:

#2 Lenovo Ideapad S145
Lenovo Ideapad S145 has a modern look and a very affordable price. That's a rare case.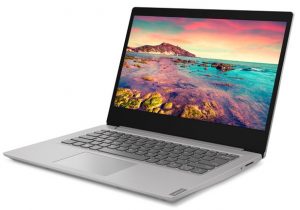 The device runs cool and quiet under any kind of load (34°C in our test), and it also has a thin and light body. The screen (AUO B156HTN06.1 AUO61ED) doesn't use PWM for brightness adjustment but the viewing angles, the contrast ratio, and the RGB coverage are not that good. Well, you can't expect much more in this price range.
The battery life is not great – 4 hours 30 minutes of web browsing. We are happy with its good upgradability and the disassemble is simple too.
Once again – don't forget the price of this device, that's why it is in second place here.
Read our detailed review here: Lenovo Ideapad S145 15 review
Lenovo Ideapad S145 configurations:

#1 Acer Aspire 5 A515-54G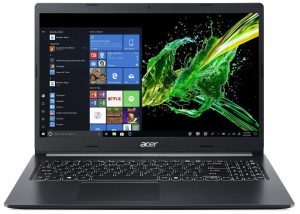 The winner is here – Acer Aspire 5 A515-54G. One more budget device on our list. It is one of the cheapest notebooks paired with an IPS panel. Speaking of the screen, it's PWM-free with just 54% of sRGB color gamut – but hey, it's fine for its price.
The battery is surprisingly good with more than 8 hours of web browsing and video playback. The notebook will be always cool no matter the kind of load you give it.
If you play light games from time to time you can rely on NVIDIA MX250 which is more than powerful enough for games like CS:GO and DOTA 2.
Yes, Acer Aspire 5 A515-54G is the best bang for your buck this November – a lot of good features for its price tag.
Read our detailed review here: Acer Aspire 5 (A515-54G) review
Acer Aspire 5 A515-54G configurations: