Top 5 Reasons to BUY or NOT buy the Acer Aspire 5 (17″)!
Today's article will be quite useful to those of you who are on the lookout for a good 17-inch all-rounder. This time we have summed up the top 5 reasons for and against one such laptop which is more than great for multimedia purposes and even light gaming – the Acer Aspire 5.
You can check all available configurations over here: http://laptopmedia.com/series/acer-aspire-5-a517-51/

4 reasons to buy Acer Aspire 5 (17″)
1. Best in class display – bright, vibrant and with wide sRGB coverage
Probably the most impressive thing about the Aspire 5 (17″) is its surprisingly good IPS display. The notebook incorporates a high-end LG panel ensuring fairly high maximum brightness of 404 nits, excellent contrast ratio – 1140:1, as well as 90% sRGB coverage. You could also check our custom profiles each of which will improve the overall image quality in certain aspects.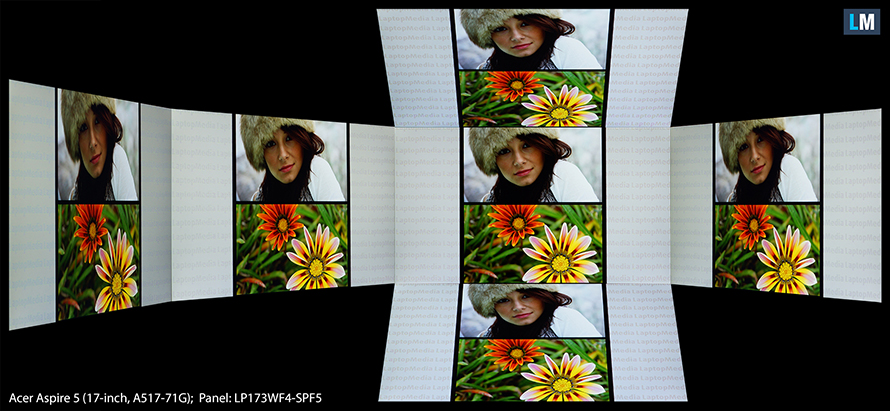 2. No PWM at any brightness level
Another essential merit of the device is the absence of PWM across all brightness levels making it safe to use for extended periods of time without experiencing negative effects. Of course, you can also install our custom Health-Guard profile which reduces the harmful Blue Light emissions.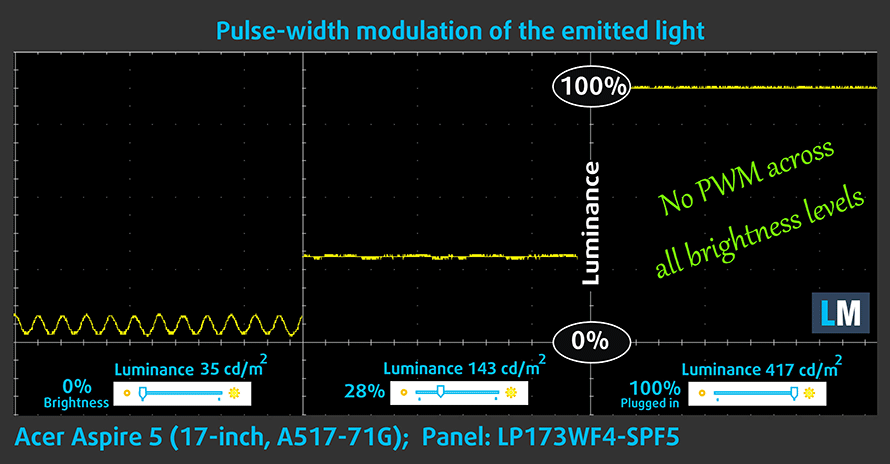 3. Good price/performance ratio
Quite often, 17-inch entry-level laptops tend to sacrifice certain features in terms of performance. However, this is not the case with Acer Aspire 5 (17″).  The Core i7-8550U (or the Core i5-8250U if you opt for the base model) paired with the GeForce MX150 make the laptop good for light gaming, multimedia, work etc.
4. Impressive battery runtimes for a budget 17-inch laptop
Despite packing a rather small battery unit of 48Wh, Acer Aspire 5 (17″) scored some pretty good runtimes in our tests. For instance, you are provided with 482 minutes (8 hours and 2 minutes) for web browsing away from the plug.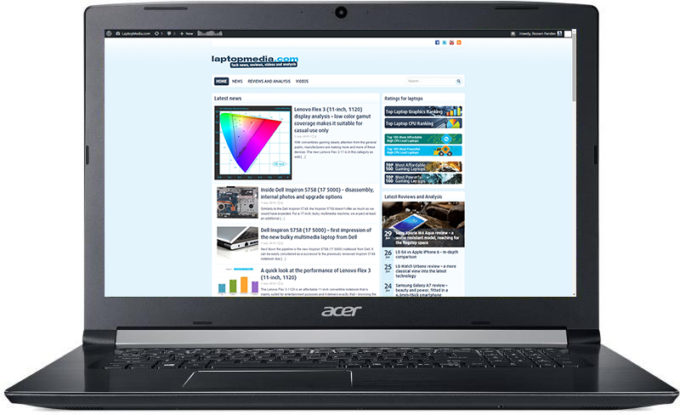 1 reason NOT to buy Acer Aspire 5 (17″)
1. No keyboard LED illumination
The only more serious drawback we can think of is the absence of keyboard LED illumination. But other than that, the keyboard is just fine.

Best competitors
If you are interested in other models that are on par with Acer Aspire 5 (17″), we suggest looking at Dell Inspiron 5770, ASUS VivoBook Pro 17 N705, as well as HP ProBook 470 G5.
You can read the full Acer Aspire 5 (17″) review over HERE.

All Acer Aspire 5 (17″) configurations