Top 5 Reasons to BUY or NOT buy the Lenovo Yoga 720 (12-inch)!
Today's article is dedicated to a compact and yet powerful 2-in-1 model from the well-known Yoga series by Lenovo – the Lenovo Yoga 720 (12-inch). We have already published its detailed review so this time we are going briefly through the top 5 most important pros and cons of the device.
You can check all available Lenovo Yoga 720 (12-inch) configurations here: http://laptopmedia.com/series/lenovo-yoga-720-12-2/

3 reasons to buy Lenovo Yoga 720 (12-inch)
1. Lightweight and portable chassis
The 12-inch model is one of the most portable Yoga 720 options tipping the scale at around 1.15 kg while measuring at just 15.75 mm in height. In addition, the screen bezels remain minimal and aluminum is the main choice of material so you don't have to worry about stability either.
2. Good CPU utilization and silent operation
Our stress tests revealed that the cooling system handles the CPU pretty well during load. Furthermore, we were pleasantly surprised by the silent fan – no noticeable high-pitched sounds, no fan noise ramping up so we can say that the Lenovo Yoga 720 is one of the most silent notebooks we have tested so far.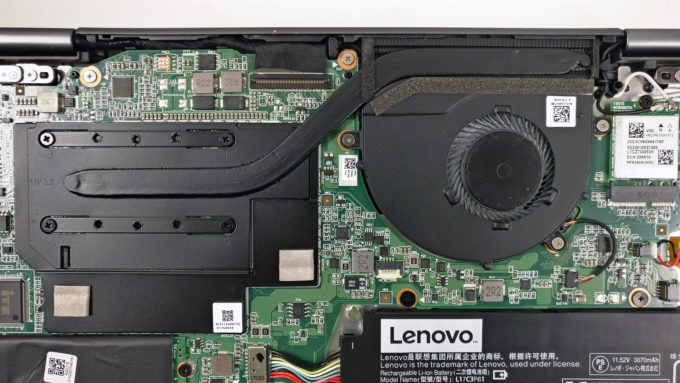 3. The screen doesn't use PWM for regulating screen brightness
Another merit worth mentioning is the lack of PWM across all brightness levels. This will undoubtedly come as good news to most users especially the ones spending their entire day in front of a monitor as they won't experience fatigue or discomfort.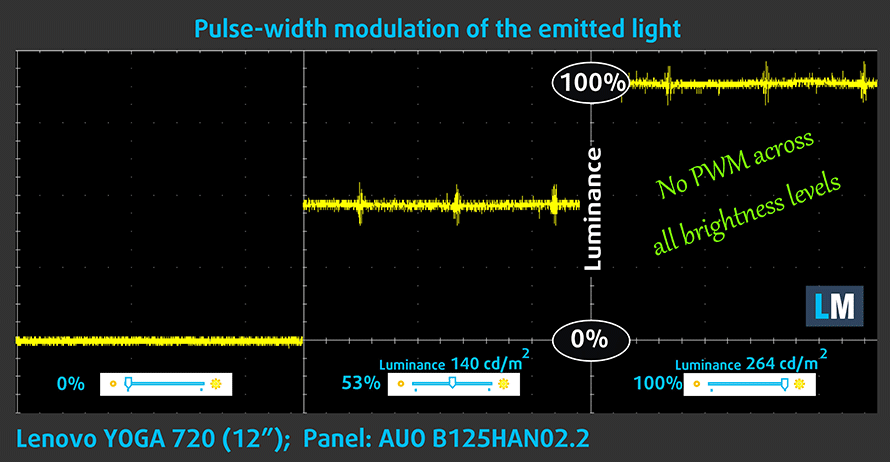 2 reasons NOT to buy Lenovo Yoga 720 (12-inch)
1. Color-deficient display with low maximum brightness combined with a glossy finish
The Lenovo Yoga 720 (12-inch) fails to impress with a good IPS display – an essential feature that is characteristic of all convertibles and ultra-portables. Given the price tag, a display with limited sRGB coverage (just 56%) and not so good maximum brightness (256 nits) is not what we are expecting. On top of that, the glossy finish of the screen makes the notebook quite uncomfortable for outdoor use. However, you could install our custom profiles that will certainly improve the overall image quality.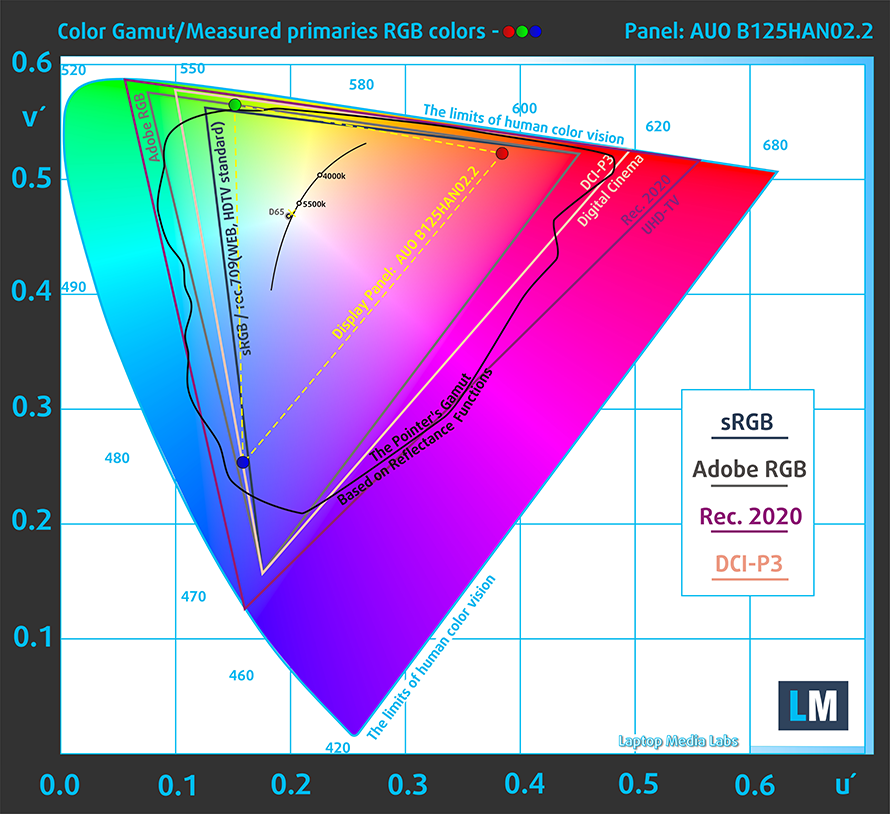 2. Poor battery life
We expected that a compact 12-inch laptop which sports a ULV (ultra-low voltage) processor like the Core i5-7200U would have a pretty decent battery life. However, the highest result the 36Wh unit managed to score was in our video playback test – 358 minutes away from a power source.

The best competitors
You may also wish to check other alternatives to the Lenovo Yoga 720 (12″) such as ASUS ZenBook UX330UA and HP Pavilion x360 15.
Follow this link to read the detailed review.

All Lenovo Yoga 720 (12-inch) configurations