[Video Review] ASUS Vivobook S 14 Flip OLED TN3402 – Offering a lot for its price
ASUS Vivobook S 14 Flip OLED (TN3402) in-depth review
As a member of the more mainstream part of the market, the Vivobook series has an appeal to a very wide audience. The S 14 Flip OLED (TN3402) in particular is a convertible notebook, which offers more than any traditional clamshell device. But convertibles are not new, right? What does the Vivobook S 14 Flip OLED (TN3402) have, that others don't? Ultimately, this machine is not super innovative, if we're talking about technology that didn't exist prior to the laptop itself. However, it combines very good hardware, with display tech that is literally the cream of the crop in the field. A[...]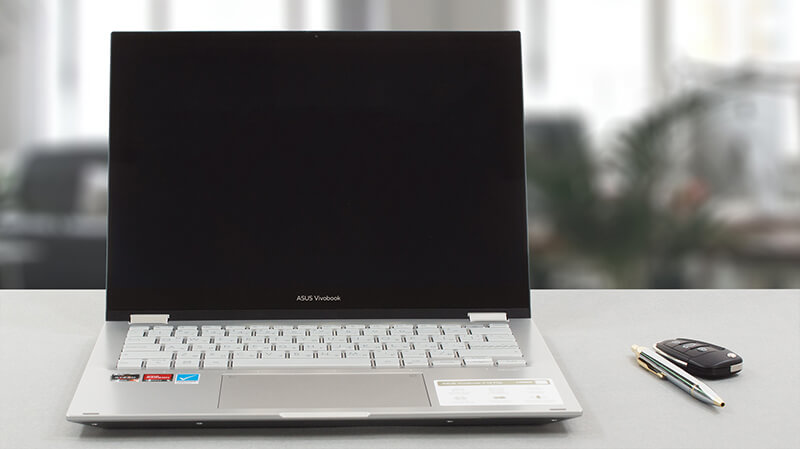 Pros
100% sRGB and DCI-P3 coverage + HDR support
Accurate color representation
High resolution and 16:10 aspect ratio
Deep blacks and virtually infinite contrast ratio
NumberPad + Stylus inside the box
90Hz refresh rate with fast pixel response times
Fingerprint reader + Noise cancellation
Cons
No MicroSD card slot
Older processors (although still pretty powerful)
Samsung ATNA40YK07-0 (SDC4171)
HDD/SSD
up to 2000GB SSD
OS
Windows 11 Home, Windows 11 Pro
Body material
Plastic / Polycarbonate, Aluminum
Dimensions
313.2 x 227.6 x 18.9 mm (12.33" x 8.96" x 0.74")
1x USB Type-A
3.2 Gen 2 (10 Gbps)
1x USB Type-C
3.2 Gen 2 (10 Gbps), Power Delivery (PD), DisplayPort
Audio jack
3.5mm Combo Jack
Fingerprint reader
optional
Web camera
HD with privacy shutter
Backlit keyboard
optional
Microphone
Array Microphone with Cortana and Alexa voice rec.
Speakers
Stereo Speakers by harman/kardon, Smart Amp
Convertible laptops often arrive with more efficient hardware, with a wattage of 15W or 28W. However, here comes the ASUS Vivobook S 14 Flip OLED, which totally Flips the market. Not only does it bring powerful 45W processors, but it also has an OLED panel, which is as good as it gets when it comes to displays.
[Intro]
First thing we've noticed, the laptop includes an ASUS pen in the box, along with a charging cable and replaceable tips. In terms of build quality, the Vivobook uses a metal lid and a plastic base, both of which show a good degree of flex resistance. As for the design, we see a quality anodized finish on the lid, with a Vivobook plaque. The base has diamond-cut edges and corners, which give it a flagship appearance. It's also covered in an antibacterial material, keeping the area of the keyboard, base, and fingerprint reader sterile and hygienic. Portability is quite good, as the laptop weighs only 1.50 kg and has a profile of 18.9 mm.
[Input devices]
The lid of the Vivobook opens easily with one hand, revealing a keyboard that feels pretty good to type on, as the feedback is very clicky, while the key travel is long enough. There's also a backlight for you night owls. The power button features a hidden fingerprint reader while the touchpad includes the well-known LED-illuminated NumberPad, which gives you a NumPad whenever you need it. As for tracking and gliding, the pad works well, offering good responsiveness.
[Ports]
On the sides, the left houses only a single full-sized USB 2.0 port. This leaves all of the rest on the right, which consists of an HDMI 2.0 port, one full-sized and one Type-C 10-gigabit USB port, and an audio jack. The Type-C port can be used for charging, supplying up to 100W. In other aspects of connectivity, the Vivobook comes with Wi-Fi 6, so you're getting the best possible connection, regardless of the network.
[Display]
Now, let's move to the display section, where we see thin bezels, except for the bottom, where ASUS has placed its logo. The top one has a Full HD webcam and a physical shutter for extra privacy. The Vivobook has extra trickery up its sleeves, with AI noise-canceling software for when there's ambient noise during your meetings.
For the main event, we have a 2.8K OLED panel with a 90Hz refresh rate and a wickedly quick 3ms response time, so using the laptop feels very smooth and responsive. However, that's not all, as the display also reaches 357 nits of brightness and fully covers the sRGB and DCI-P3 color gamuts. The panel offers excellent color accuracy, thanks to the Pantone validation, with a delta E value of 1.2 in the sRGB gamut and 1.3 in the DCI-P3 gamut.
However, there is some PWM usage up to 85 nits. If you feel annoyed by it and want it gone for good, our Health-Guard profile will take care of it, while keeping the accuracy intact. We'll leave a link to buy it in the description below.
[Battery]
Despite the 45W H-series processors, we get up to 10 hours and 34 minutes of Web browsing, or 9 hours and 43 minutes of video playback from the 70Wh battery pack and the Ryzen 5 5600H, a CPU known for its efficiency.
[Performance]
Yes, we've chosen the 5600H for our tests which is a pretty good CPU, while not being as fast as the Core i7s and Ryzen 7s out there. Of course, you can buy this machine with the more competitive Ryzen 7 5800H, getting two extra cores and four more threads. Some good news is that the laptop will be offered with U-series CPUs as well.
[Cooling]
Two heat pipes and one fan have the job to keep the CPU running under high load. We've tested a lot of Ryzens and they often run at high temperatures. That is the case today too, 5600H reaches 99°C. The frequencies are not bad, though. We are excited to see the U-series here since we expect much lower temperatures from them, while still having good performance.
When it comes to comfort, you can hardly hear any noise or feel excess heat from the chassis. Aiming an IR camera as the base shows a hotspot of only 40°C.
[Teardown and upgradeability]
You'd be pleased to know that the Vivobook carries one RAM and one storage slot, for DDR4 memory and Gen 3 SSDs, respectively. It also has up to 8GB soldered onto the motherboard.
We'll link our teardown video down below, which shows how to access both the RAM and storage slots of the Vivobook S 14 Flip OLED.
[Verdict]
While employing last-gen hardware, the Vivobook S 14 Flip OLED is competitive among its peers, and the OLED display is a treat to look at. The Ryzen processors deliver power and efficiency, as well as offer long battery life. Oh, and let's not forget the ASUS pen that you're getting, which allows your Creativity to shine, excellent for artists of all types.
You should definitely go over our written review, which we have on our website, for more information about the laptop, including further tests and benchmark results.