2 months after LaptopMedia, Intel announces its new Core i3-8130U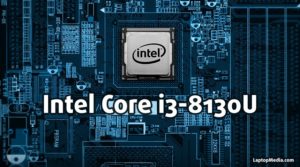 Today is a good day for all of you who are fans of Intel processors. We are happy to share with you that 2 months after we published information about the Core i3-8130U processor, Intel officially announced the chip in question. You might remember our short publication about how it is meant to compete with the new AMD ULV processors or the one in which we discuss its detailed specifications.
You can check all current available Intel products here: Buy from Amazon.com
A quick recap of the most important features of this CPU might be a good idea. Firstly, it is a dual-core processor with four threads. It is part of the Cannonlake 10nm architecture and boasts the following frequencies: base frequency of 2.20 GHz and boost clock of 3.40 GHz. Moving on to the graphics side of things, it is accompanied by the integrated Intel UHD Graphics 620 GPU.
You might also wish to know that this bad boy has 4MB of L3 cache and supports 2400 MHz DDR4 or 2133 MHz LPDDR3 RAM. Additionally, it is meant to be used in thin laptops and 2 in 1 devices. That is one of the reason why its TDP is only 15W.