35% off the Logitech G19 programmable keyboard with LCD display is the best gaming deal of the day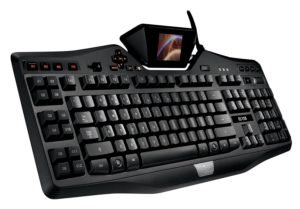 Logitech creates one of the best gaming peripherals on the market. Its products range from the most basic low-end devices aimed at the average consumer to super high-end gaming gear suitable for enthusiastic gamers. A part of the latter is the Logitech G19 keyboard that stands out with its plethora of features. However, this premium product comes with a hefty price tag but now as the model is getting older Logitech is selling it for just $253.99 which is a big discount from the regular $389.99 tag (around 35%).
The main advantage of the Logitech G19 is the color GamePanel display that we usually don't see in most other keyboards. It's a little panel over the function keys with a resolution of 320 by 240 pixels which can display valuable system information, game data, VOIP communication and others. It is compatible with over 60 games. 
Of course, you get other great features too like 12 programmable G-keys each of which can be programmed with three macros for a total of 36 complex macros. You can also press up to five keys simultaneously to unleash that combo. You can also personalize the keyboard backlight to suit your needs.
You also get two USB 2.0 ports to connect mice, storage device or charge other peripherals.
You can check the Logitech G19 over here: http://amzn.to/2ePB5QX