Acer Aspire Switch 12 S doesn't use PWM and it's suitable for long hours of work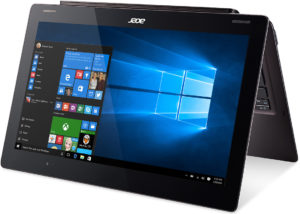 The chances are that users will be working on the Aspire Switch 12 S around the clock due to its flexible and versatile design – in laptop mode during the day and as a tablet during the evening for some light browsing or reading, for example. Thus, the notebook should have a user-friendly screen that won't put unnecessary stress on your eyes. For starters, Acer has implemented the well-known BluelightShield technology for reducing the blue light emission, which we will talk about more in our full review, but that's not all.
The device isn't out yet, but you can check here when it pops out: http://amzn.to/1TLi9gk
Our oscilloscope recorded absolutely no screen flickering throughout all brightness levels, although a weird phenomenon occurred. We detected some small pulsations with extremely high frequency (56 kHz) when the device is plugged into the power source. Anyway, 56 kHz is too far from the "aggressive" 200 Hz pulsation so it's quite unlikely that users will feel any eye strain.