Acer Nitro 5 Spin is a 2-in-1 gaming laptop – detailed specs, price and release date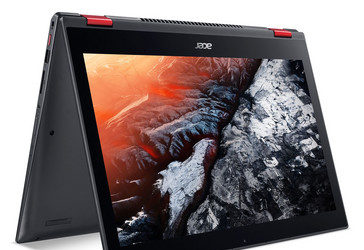 Usually, when you hear a 2-in-1 convertible laptop you think of a low-powered multifunctional device with long battery life and usually of small size. They are designed for multimedia and business users but this is not the case today. Acer presents us with the Nitro 5 Spin – a 2-in-1 gaming notebook.
You can check all currently available Acer products over here: http://amzn.to/2vf24Zm
The Nitro 5 Spin isn't the first ever 2-in-1 gaming notebook but there isn't too much of a competition in this niche. Take note that when we say gaming we refer to casual gaming – it's not an enthusiastic configuration, however, it will deliver the needed power to play your favorite games.
You'll find Acer Nitro 5 Spin's detailed specs here: http://laptopmedia.com/laptop-specs/acer-nitro-5-spin/
We said that convertibles are usually of small size. Well, the Nitro 5 Spin is a full-sized 15.6-inch notebook. In fact, it features an IPS panel with Full HD (1920 x 1080p) resolution. The display packs some exclusive features like Acer's BluelightShield that reduces the blue light emissions and Color Intelligence technology deliver crisp colors with less CPU loading.
We said that convertibles are usually low-powered. This is most certainly not the case here. The Nitro 5 Spin will be powered by up to an 8th generation Core i7 processor, however, we don't know if it's going to be a refreshed Kaby Lake chip or a Coffee Lake model. To make it a gaming laptop, Acer has added the Nvidia GeForce GTX 1050 GPU. While this GPU is NVIDIA's entry level model it still delivers enough power to run your favorite games on medium graphics settings.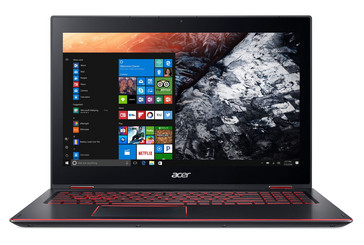 The Nitro 5 Spin storage options include up to 512 GB of PCIe NVMe M.2 SSDs. You get some premium features with the device too. For instance, there is a MU-MIMO wireless antenna technology which should deliver up to three times faster download speeds. This antenna, however, will be available depending on the region. Other than that, you get by Audio Premium-certified stereo speakers and subwoofer that include Acer's TrueHarmony and Smart Amplifier. A backlit keyboard and fingerprint sensor are also found on the device.
We also said that convertible laptops are multifunctional devices with long battery life. Now, this is true for the Nitro 5 Spin. Not only that is it s gaming notebook, it can be used like a tablet or for presentations with all the functionalities of a regular 2-in-1. And about battery life, Acer claims up to 10 hours which if true would be outstanding for a gaming notebook.
The Acer Nitro 5 Spin will be available in October with prices starting from $999/€1,199 for North America and Europe respectively.
Meanwhile, you can check all currently available Acer products over here: http://amzn.to/2vf24Zm