Acer Predator Helios 300 (i7-7700HQ, GTX 1060) for just $1049.99 on Amazon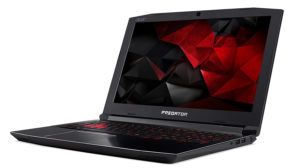 The Predator Helios 300 is a not long ago released mid-range gaming notebooks by Acer. The notebooks packs powerful hardware at a reasonable price. For just $1099.99 you get an Intel Core i7-7700HQ CPU and a GeForce GTX 1060 6 GB GPU. Now you can save 50 bucks and purchase the Helios 300 for just $1049.99 which makes it an even better choice.
Here are the exact specs of the discounted configuration. As we mentioned, you get the Core i7-7700HQ which has four physical cores and four logical ones with a maximum frequency of up to 3.8 GHz. You also get the GTX 1060 graphics cards with 6 GB of GDDR5 memory. The 15.6-inch screen has an IPS panel with Full HD (1920 x 1080p) resolution. Helios 300 features 16 GB of high-speed 2400MHz DDR4 RAM and a 256 GB SSD for storage.
Acer claims up to seven hours of battery life would be great for a gaming notebook. However, maybe this is one of the reasons for the device to be heavy – 6 lbs (2.7 kg). The chassis is made of metal and has all the features that make up the aggressive look of the Predator series.
There are two fans designed to cool the system through long gaming sessions and two stereo speakers to create a more immersive experience.
You can check out the available deal over here: http://amzn.to/2sZBuoI