Acer Swift 7 finally goes on sale but the price isn't as thin as the ultrabook itself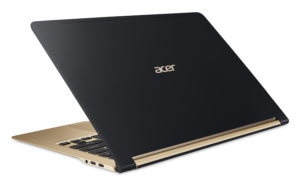 It's been a while since Acer announced world's thinnest 13-inch notebook, the Swift 7, and it's now finally on sale. We are currently working on a review, which will help you decide whether or not the notebook is worth the not-so-thin price of $1100 for the base configuration. However, we are having some trouble with our pre-production sample so that's why there's a hold-up.
Anyway, the laptop is up on Amazon.com as well and with a considerably lower price at $999 for the configuration with the Core i5-7Y54 CPU, 8GB LPDD3 RAM, and 256GB M.2 SATA SSD. Still, the M.2 SSD isn't PCIe NVMe so that's a big disappointment but the crisp IPS panel makes up for the absence of NVMe support with superb image quality. The battery life is good too so it really goes down to the performance of the new SoC. If it's substantially better than the previous generation, the price might come as fair but if not, there are some more powerful alternatives at this price. Nonetheless, you won't get the portability you'll get from the Swift 7.
Stay tuned for the full review of the model as we have a lot of interesting insight on how the notebook performs as a daily driver.