ADATA with a new M.2 3D NAND SSD – the XPG SX8000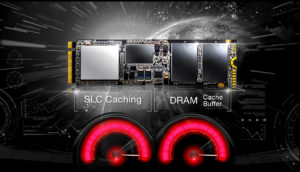 Today ADATA launched a new M.2 3D NAND SSD part of the XPG (Xtreme Performance Gear) products, which are famous for their great performance and attractive style. The Taiwanese company presented the XPG SX8000 SSD in an M.2 form factor and an SMI 2260 controller. Additionally, the new product connects directly to your motherboard via PCI Express 3.0 x4 (PCIe 3×4) and delivers 2.4GB/s read and 1GB/s write, with 100K/140K IOPS.
You can browse through all currently available ADATA XPG products here: http://amzn.to/2ducufr
Furthermore, the new device comes with different capacities – 128GB, 256GB, 512GB, and 1TB. In essence, this is a somewhat faster SSD with an appealing XPG heatsink. You may also wish to know that it will be released by the end of October. The transfer speed you will be offered is improved – four times the read and twice the write performance of average SATA 6Gb/s SSDs. What's more, the SX8000 has merits in terms of its architecture – it uses the reliable 3D MLC NAND Flash. This means that not only will it be more effective, but also a smaller form factor and decreased power consumption. According to the manufacturer, SX8000 features a 2 million hour MTBF (mean time between failures) rating, or 25% longer than 2D NAND SSD (which average 1.5 million hours).