Alienware reveals Area 51 X299 – Intel's newest Core i9 CPU, 64GB RAM, multi GPU configurations and more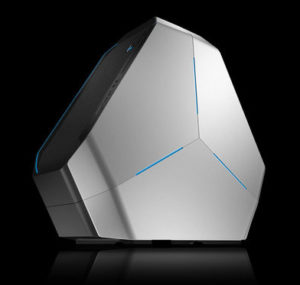 Hey there, gaming enthusiasts! We have something hot for you. The renowned gaming manufacturer Alienware revealed its new Area 51 desktop solution which will blow you away not only because of its out-of-this-world elegant design but also because of its hardware. This bad boy will feature Intel Core X-series CPUs (Core i7-7800X, i7-7820X, or i9-7900X, to be more precise) and up to 64 GB of RAM ensured by Kingston's HyperX 2933 MHz (4×16 GB).
If you happen to show interest, you could check all currently available Alienware products here: http://amzn.to/2w37Tuc
As far as graphics processing is concerned, you can choose between NVIDIA and AMD. The latter manufacturer can provide RX 560, 570, and 580 for you, whereas the former – GTX 1050 Ti, GTX 1060 (6GB), GTX 1070, GTX 1080 or GTX 1080 Ti. If you are into these things, you can configure your machine with up to two or three graphics processors as well. Storage-wise, there is a 2 TB HDD for all your photos, music, movies and other files, and you can also get an M.2 SSD, the capacity options being 256, 512 GB, or 1 TB. The SSD will be helpful for quick launching and operation with more demanding programs. You may also wish to know that the PSU can vary from a 850 W unit up to a 1500 W one.
And the connectivity options here are pretty decent – you get eight USB 3.0 ports (2 front, 6 rear) and 2x USB 3.1 Gen 2 ports (1x Type-A, 1x Type-C). Also supported is dual gigabit LAN connectivity thanks to Qualcomm Killer E2500 NIC. As for the wireless side of things, it is taken care of by a Killer 1535 or Dell 1820 802.11ac WiFi.