Alienware unveiled its refreshed 15-inch notebook with GTX 1080 and Max-Q design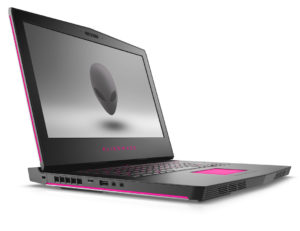 We already saw some new models featuring NVIDIA's new innovative Max-Q design (read more here) – the Aorus X5 MD and the ROG Zephyrus by ASUS. It's time for Alienware to stand its ground and it did so a few hours ago when the company unveiled the new Alienware 15 with NVIDIA GeForce GTX 1080 Max-Q.
There is still not very much detail released about the 15.6-inch machine but judging by the photos the extraterrestrial notebooks does not look any different in terms of design and dimensions. If so than Alienware has most probably left more space for other components like storage drives and M.2 slots. It is also known that the chassis hosts a monstrous 99Wh battery which capacity should provide record-breaking endurance per charge as we consider the energy efficient graphics chip.
And as far as other specs, for the moment we can only confirm the presence of the AlienFX keyboard and a full arsenal of external connectivity ports including a USB Type-C.
Meanwhile, you can check all currently available Alienware over here: http://amzn.to/2s7GfKy