AMD announces its first two "Raven Ridge" mobile processors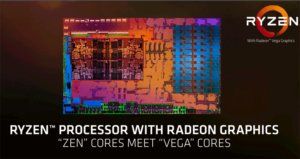 The American tech company AMD has officially announced its first two mobile Ryzen processors both of which feature Vega GPUs – we are talking about the quad-core Ryzen 5 2500U and Ryzen 7 2700U.
These upcoming "Raven Ridge" processors mark the return of AMD to the laptop processor market. After nearly a decade, AMD finally poses a serious threat to Intel. According to AMD's Senior Vice President and General Manager, Jim Anderson, the company starts to fulfill its promise to "bring innovation and competition back to every segment of the PC market in 2017".
Although the new chips sport the same Zen architecture as AMD's previously released desktop processors, they feature an integrated GPU unlike the desktop models. What both of the chips have in common is that they will feature four cores and eight threads. However, the more powerful one is 2700U with a higher maximum clock speed, more GPU compute units, and a slightly higher maximum GPU clock speed.
On top of that, AMD has also announced that the tech giants HP, Lenovo, Acer, and Dell are working on laptops that will sport these new mobile chips. Most of these notebooks are expected to hit the shelves in early 2018, however, exact dates and prices are not known yet.
Until then, you can check all available AMD products over HERE.