AMD Radeon Software Crimson ReLive update brings improvements both for gamers and developers
AMD released its latest update to the Radeon Software Crimson ReLive Edition driver. Version 17.7.2 brings major improvements and new features to further enhance both performance and stability. The update is not only focused on gamers. Developers will also be thrilled about new features that will let them do their work more easily and create better products.
You can check out all available AMD graphics cards over here: http://amzn.to/2v1D2js
First of all, streaming will be more pleasurable than ever. The original ReLive Edition provided users with a built-in stream tool. From now on, the quality of the streaming video will be much higher as AMD is increasing the maximum bitrate from 50Mbps to a 100Mbps. You also get the ability to make your webcam image more transparent so that it doesn't block part of the game HUD. Other than that, AMD claims that memory usage has been improved to bring better performance, especially on low-end GPUs with small amounts of VRAM. Enhanced audio control is also present.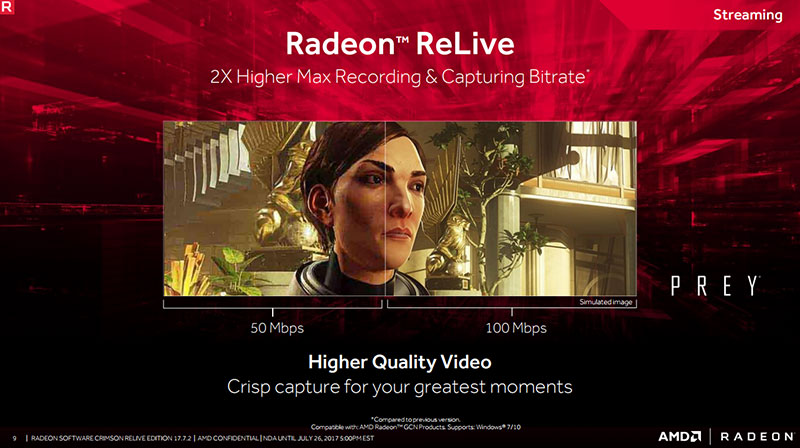 Radeon Chill also gets an improvement. It now supports almost 40 of the world's most popular games at the moment. For those of you who don't know what Radeon Chill does – it dynamically paces your frame rates according to your in-game situation. For instance, it lowers the frame rate when you are standing still but quickly increases it when the action kicks in. This is particularly helpful for saving power and minimizing fan noise. However, this option can be modified or turned off if you want to get the most out of your GPU at every given moment.
Radeon Chill is now not only available for a wider range of games but also for a wider range of hardware. It now supports mobile graphics cards and works with Radeon XConnect technology so notebook can benefit from it when docked and connected to an external GPU. Radeon Chill is also now available for all modern low-level APIs like DirectX 12 and Vulkan.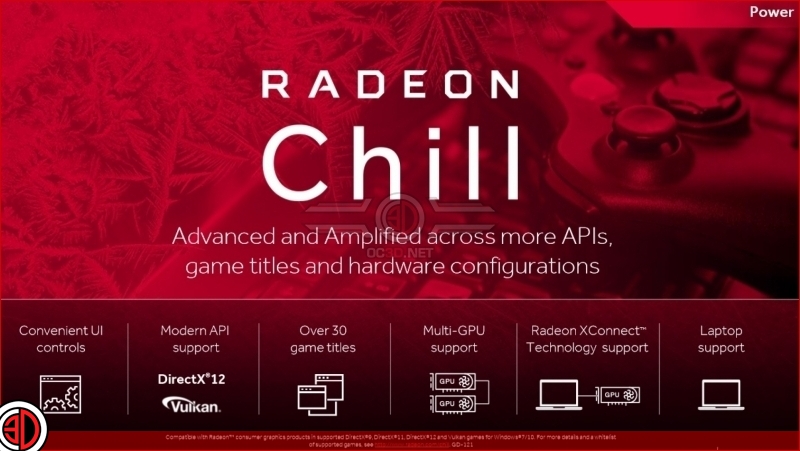 A new feature added to ReLive Edition 17.7.2 is Enhanced Sync. It is a display technology that basically does what VSync does but with a lot of added functionality. It decreases latency and tearing thus increasing the responsiveness and fluidity of the gameplay. Enhanced Sync uncaps your GPU so that it can perform at its best and display only the newest rendered frame. Old frames may be dropped is not needed. This way the latency is decreased when the frame rate is higher than the monitor's refresh rate. On the other hand, when the frame rate is lower than the refresh rate, we will witness decreased stutter.Enhanced Sync will work with any monitor so you won't need to buy a new one but it is available only on RX 400 and 500 series of GPUs.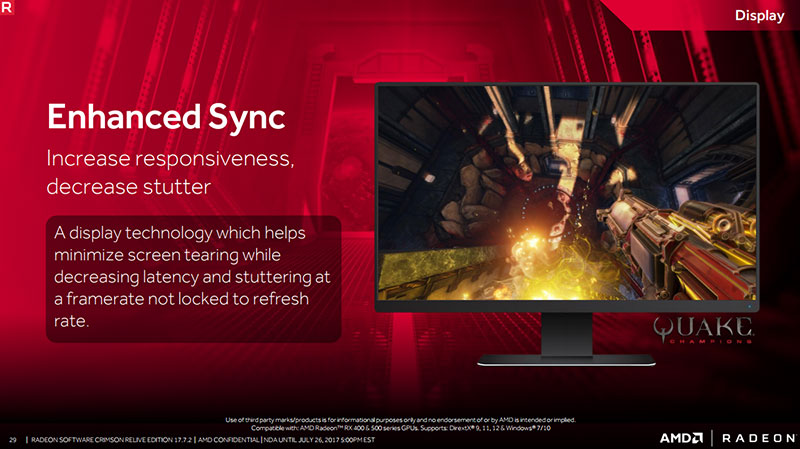 Wattman is AMD's GPU power management engine which lets you tinker with GPU's memory clock speeds, voltage and fan/temperature profiles. This way, you can maximize performance or power efficiency depending on your needs.
Apart from the addition of low-level APIs support for Radeon Chill, AMD is surprising developers with a new tool called the Radeon GPU Profiler. Now, game development on PC is closer than ever to the console level. Instead of creating a product that you can later test and see how it runs, the Radeon GPU Profiler gives you a greater insight into how the game is performing. Developers can easily monitor and analyze valuable real-time GPU information so they can more easily understand where optimization is needed the most.
Radeon Software Crimson ReLive Edition 17.7.2 brings quite a few interesting new features and improves and enhances old ones. This way it will maximize the gaming performance of the end user and make the developing cycle easier.
Meanwhile, you can check out all available AMD graphics cards over here: http://amzn.to/2v1D2js