AMD Ryzen 7 1800X hits first place as best selling CPU on Amazon hours after release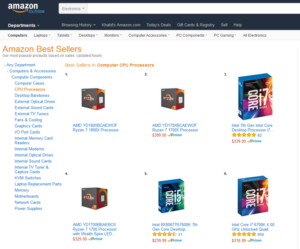 Today is a big day for AMD. Their new Ryzen processors got officially released and even though they are only available for pre-order and will hit the market on the 2nd of March they already raised to the top of the charts. AMD's flagship Ryzen 7 1800X is currently number one in best selling CPUs for the past 24 hours on Amazon.
The respectful second place is again taken by a Ryzen representative – the Ryzen 7 1700X. Only the third place is taken by an Intel CPU – the Core i7-7700K which is immediately followed by the third and most modest currently released Ryzen processor – the Ryzen 7 1700.
You can pre-order them from here:
Ryzen 7 1800X: http://amzn.to/2mg8kw4
Ryzen 7 1700X: http://amzn.to/2l3oUNL
Ryzen 7 1700: http://amzn.to/2lcKfW0