ASUS FX503 hits the market – a budget gaming solution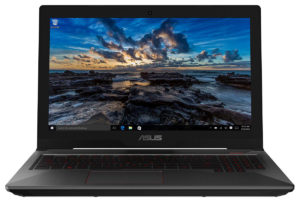 Alongside the monstrous ROG Chimera, another gaming notebook by ASUS, this time a budget one, silently makes its way to the shelves. We are talking about the ASUS FX503 which does not even carry the ROG branding with it.
The FX503 is essentially an updated version of the FX502VM. Although not carrying ASUS' gaming brand much like its predecessor, the FX503 boasts some hardware capable of satisfying the needs of a casual gamer. This time you can opt for a 7th gen Intel processors going up to the Core i7-7700HQ. As for the GPU, you can choose between the NVIDIA GTX 1050 with 2 or 4GB of GDDR5 memory and the GTX 1060 but this time at its full potential with 6GB (not like the FX502VM where you were stuck with 3GB).
Another upgrade over the last generation is that you can now opt for an IPS panel which will provide much better viewing angles and possibly image quality. Unfortunately, there is still no USB Type-C port to be found which is a let-down for a device releasing in late 2017. On the other hand, you get a large 64Wh battery which should be able to squeeze out more than a couple hours of gaming.
You can check out the full specifications and available configurations of the ASUS FX503 in our Laptops Specs system below: