ASUS K550JX's battery put to the test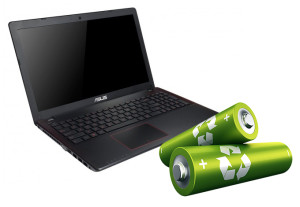 The ASUS' new K550JX looks like a successor to the old GL552 notebook, that featured relatively powerful hardware for almost half the asking price of some gaming notebooks. But since the GL552 got upgraded with the new Skylake CPUs and NVIDIA GeForce GTX 960M, the price got a corresponding "upgrade" as well. So the K550JX with Intel Core i7-4720HQ and GeForce 950M should take GL552's in the mid range.
In contrast to the GL552, though, the ASUS K550JX got some pretty good readings in our battery tests. Well, compared to other notebooks at this price range, the results are rather below average. Still, for a powerful hardware like this one with this asking price, the K550JX is kind of okay. All tests were performed with Wi-Fi turned on, battery saver turned on and screen brightness set to 120 cd/m2.
During web surfing, the notebook kept running for about 253 minutes with one charge, 211 minutes of video playback and merely 50 minutes of gaming. Stay tuned for our full review of the model with more thorough tests to come.