ASUS ROG Strix GL702ZC – the first official gaming notebook featuring a Ryzen processor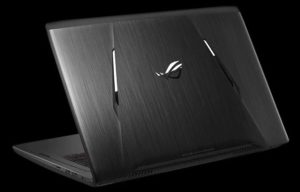 Shortly after ASUS announced their new ultra-thin gaming notebook – the ASUS ROG Zephyrus which takes advantage of the new NVIDIA Max-Q design, the Taiwanese company is showing us another great gaming solution but this time running on AMD hardware. This is the ASUS ROG Strix GL702ZC which certainly looks like something to look forward to.
Why is the Strix GL702ZC so special? The answer to this question is simple – it is the first notebook to feature one of AMD's new Ryzen processors. In fact, you can choose between three different models for your configuration. The most powerful one is the high-end Ryzen 7 1700 which is an 8-core 16-thread CPU which can be compared to the Intel Core i7-7700K. If you want something more modest you can opt for either the six-core Ryzen 5 1600 or the quad-core Ryzen 3 1200. AMD claims that the mobile CPU is just as good as the desktop version, however, overclocking is disabled.
You also get a big 17.3-inch panel with a few options for the resolution. You can get yours with 4K resolution and 60Hz refresh rate or lower the resolution to Full HD but increase the refresh rate to either 75 or 120Hz for fast-paced gaming. All configurations support AMD FreeSync.
Other specs of the notebook include a Radeon RX 580 graphics card which makes the laptop VR-ready and up to 32 GB of DDR4-2400MHz RAM. In terms of storage, you get an NVMe slot and a regular 2.5-inch SATA slot.
The ASUS ROG Strix GL702ZC will start shipping later in the summer but pricing is still not disclosed. Meanwhile, you can check out all available ASUS notebooks over here: http://amzn.to/2r46faY