ASUS unveils a new workstation motherboard – the Z270-WS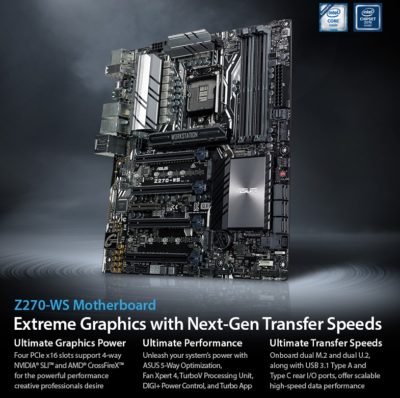 Today ASUS unveiled a new motherboard that is perfect for enthusiastic DIY workstation builds. As you may guess by the name, the Z270-WS is based on Intel's Z270 chipset. The socket available is the LGA1151 so you can use Intel's latest 7th generation Kaby Lake processors. What sets this motherboard apart is the fact that it uses a PLX PEX8747 PCI-Express 3.0 x48 bridge chip. The board features a 12-phrase CPU voltage regulator module (VRM) with server-grade electrical components.
There are four DDR4 DIMM slots and three PCI-Express 3.0 x16 slots (x16/NC/x16 or x16/x8/x8). There is also a fourth PCI-Express 3.0 which is electrical x4 and wired to the PCH. You can supply your motherboard with energy from either of the three options – a 24-pin ATX, 8-pin EPS, or 6-pin PCIe power connectors.
When in comes to storage you get pretty much all you can ask for – six SATA 6 Gb/s, two 32 Gb/s M.2, and two 32 Gb/s U.2 ports. The motherboard even supports Intel Optane (3D X-point SSD) technology.
And lastly but not least important, connectivity options. The Z270-WS features two gigabit Ethernet interfaces (one driven by an Intel I210-AT controller and the other by an Intel I210-LM one),  six USB 3.0 and four USB 3.1 ports (one of which is a Type-C port). Unfortunately, no information about the price was given.
Meanwhile, you can check out all available ASUS motherboards here: http://amzn.to/2kZE0s8