ASUS ZenBook Flip 14 and 15 are thin 2-in-1 notebooks with a discrete GPU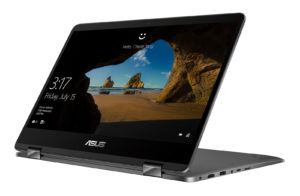 At IFA ASUS announced the ZenBook Flip 14 (UX461). What's so special about it is the fact that it is one of the thinnest 2-in-1 notebooks currently available to feature a discrete GPU. It measures just 13.9 mm thick but we say one of the thinnest as there are competitors like the Acer Switch 7 Black Edition.
You can check out all of ASUS' products over here: http://amzn.to/2rigaLN
The ZenBook Flip 14 features a 14-inch Full HD (1920 x 1080p) NanoEdge touch display. It is equipped with an Intel Core i7 processor from the latest 8th generation. This will be a Kaby Lake Refresh CPU. The new ULV chips have four cores and eight threads and performance is much better than the previous 7th generation. This CPU paired with the discrete NVIDIA GeForce MX150 GPU is even capable of gaming. Don't expect too much but you can play every now and then.
This powerful for an ultra thin 2-in-1 device hardware is backed by up to 1 TB of PCIe x4 SSD and up to 16 GB of DDR4 RAM. Other goodies include a Harman Kardon audio system and a battery life claim of up to 13 hours. Prices will start from €799.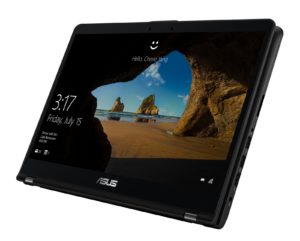 Then there is the ASUS ZenBook Flip 15 (UX561) – the bigger 2-in-1 device. It has a fully rotatable 15.6-inch touch display It's an updated version of the ZenBook Flip 15 that features a quad-core 8th gen Corre i7 CPU and the more powerful GeForce GTX 1050 GPU making it a budget gaming notebook by all standards. However, it features a 4K UHD (3840 x 2160p) resolution which is one of its best features but also a bit of a downside as the GTX 1050 isn't very powerful.
You can configure the ZenBook Flip 15 with up to 512 GB of SSD and up to 2 TB of HDD as well as up to 16 GB of 2400 MHz DDR4 memory. A nice feature is the addition of a USB Type-C port with Thunderbolt 3 support which means high-speed data transfer and 4K external monitors support. You have an HDMI port too so up to two displays at once. Pricing will start from €899, however, a release date is not set.
Meanwhile, you can check out all of ASUS' products over here: http://amzn.to/2rigaLN