ASUS ZenBook Flip UX360's display can easily be considered as "flicker-free"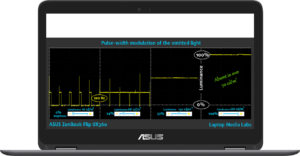 After the great news about the quality of the presented Full HD display in ASUS ZenBook Flip, our oscilloscope gave us another reason to like the ultrabook even more. And this one is an essential part of staying healthy and protecting your eyes.
You can check here for prices and configurations when the notebook is available on the market: http://amzn.to/1XHSwS8
The tests show that the notebook's display uses PWM for adjusting screen brightness but only from 25% luminance and below. This translates to merely 70 cd/m2, which is practically unusable unless you are in a pitch black room. So as long as you keep the slider above 25%, you will be perfectly fine. In order to better understand what we just told you, take a look at our dedicated article on the matter and also take a look at the graph below.