ASUS ZenBook UX310 uses PWM only at low levels of brightness and won't be an issue in practice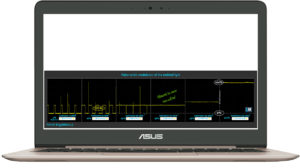 Although the ASUS ZenBook UX310 and the ZenBook Flip UX360 use the same IPS panel, the former sports a more refined version with much better multimedia properties – wider sRGB coverage, better contrast, higher brightness, etc.
You can find the available configurations here: http://amzn.to/2vLvKl6
And despite all the differences between both displays, they use PWM only around 100 cd/m2 brightness but you will probably go below 30% luminance if you are working in a pitch-black room. During the day, everything above 30% will be fine, especially for your eyes. We strongly recommend keeping the slider at least above 30% because our equipment detected screen flickering at an extremely low frequency and thus more damaging to your eyes – 200 Hz.
But if this laptop doesn't suit your needs, we suggest looking into our PWM ranking for a similar or better PWM rating.

ASUS ZenBook UX310 configurations