ASUS ZenBook UX550's display doesn't use PWM above 29% brightness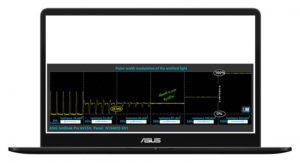 What makes a nearly perfect display? Most users would probably say – wide sRGB coverage, high contrast, accurate color reproduction but only a few will be looking for a PWM-free display.
You can find the available configurations here: http://amzn.to/2wZR8k0
Luckily, the ASUS ZenBook UX550's display has it all – it's ideal for multimedia, working and browsing and it's flicker-free above 29% brightness so you don't have to worry about eye strain during long hours in front of the screen. In reality, 29% translates into a very dim 85 cd/m2 luminance, which you might use only in pitch black room. In any case, the frequency of the emitted light is pretty high (25 kHz) and only users with extra sensitive eyes will notice something.
If you are looking for a notebook with similar or better PWM rating, we suggest visiting our PWM ranking and also consider our Health-Guard profile that reduces the negative blue light emissions.

ASUS ZenBook UX550 configurations