Check out the awesome battery life Alienware 13 has to offer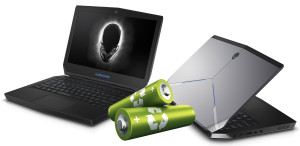 Guess what, Alienware 13 has just astonishing battery life but we are still puzzled whether the notebook is considered to be an everyday 13-inch laptop or an ultra-portable gaming solution. In any case, our battery tests show excellent runtimes mostly because the little beast packs an impressive 52Wh battery, small 13-inch screen and ultra-low voltage Core i7-6500U CPU.
You can find the notebook and its available configurations here: http://amzn.to/1RgT1jC
Anyway, we ran our usual tests like Wi-Fi browsing, gaming and video playback with the usual settings – Wi-Fi turned on, of course, power saving mode turned on and screen brightness set to 120 cd/m2. So the notebook scored 526 minutes of web browsing, 500 minutes of video playback and just 136 minutes of gaming away from the power grid, which is quite understandable given the fact that the GTX 960M GPU drains a lot of power. But hey, who's going to start a gaming session away from the AC adapter?
Stay tuned for our full review because it's full of surprises.