Custom GTX 1080 Tis coming from ASUS, MSI, Zotac, Inno3D and EVGA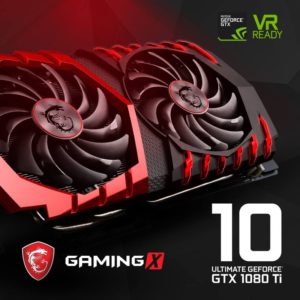 It's been a few days since NVIDIA's new flagship – the GeForce GTX 1080 Ti was announced. The Founders Edition will soon be available for order at a price of $699 but some enthusiasts prefer to get a custom-cooled model to provide even better performance and overclocking capabilities.
The other day ASUS announced the first ever custom GTX 1080 Ti versions – the ASUS GeForce GTX 1080 Ti Turbo with its turbine-like cooler and the beefier ROG STRIX model with three fans.
Now other manufacturers are revealing their iterations of the flagship graphics card. Among them are MSI, Zotac, Inno3D and EVGA. The models are only teased. There is no information about specs, price or release date available at the moment of speaking. However, we have some images from which we can see that most manufacturers have opted for the three fan cooling design to assure low temperatures under heavy load and better overclocking capabilities. Of course, there are more traditional models with only two fans like the MSI Gaming X version of the 1080 Ti.
Other information we can get from the images is that some models come with some sort of illumination so if you are one of those gamers that like a flashy-RGB inside of your case these models are for you. The ASUS ROG STRIX has ASUS AURA RGB illumination and backplate while the image of the Zotac PGF reveals a nice light-blue color.
You can check out all available NVIDIA products over here: http://amzn.to/2kTctWu