Dell Alienware 15's (Early 2015) features great display, but might not be suitable for FPS games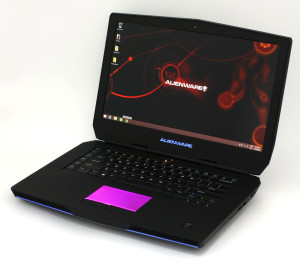 It's not often that we see a gaming notebook with good IPS display that has good color accuracy, high maximum brightness, high color gamut coverage, and it's harmless to human vision. Well, the Alienware 15 delivers that, but it comes at a price.
Dell Alienware 15 uses a Samsung panel with some great properties like high brightness (313 cd/m2), great color accuracy and it covers around 94% of the WEB-based colors (sRGB). Furthermore, we didn't record PWM above 85 cd/m2 brightness, which makes it user-friendly and harmless to human vision. Basically, you will not be using the screen under 85 cd/m2 since it's too dim and uncomfortable for work. You can see the results on the graph below.

However, good image quality isn't everything that a gaming laptop needs. Low response time is also an important factor to consider, but, unfortunately, the Alienware 15 doesn't excel in that department. We measured 33 ms of response time, which can affect more precise games like first-person shooters, but it will be perfect for other genres.
Stay tuned for our in-depth review on this model – it's coming in the next few days.