Dell announces its new XPS 15 (9560) – Kaby Lake CPU and NVIDIA GeForce GTX 1050 GPU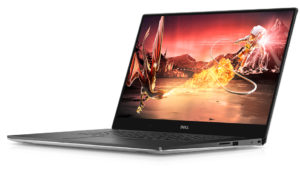 Dell came up with some really good news just before the holidays. We all know the renowned gaming lineup of the American company – XPS. Well, it seems that it will have a new member. We are talking about the Dell XPS 15 (9560) which should be among all the intriguing new offers at CES 2017.
As you may guess, the device isn't out on the market yet, but you can use the following link to check for when it becomes available: http://amzn.to/2h9CKPV
Let us now have a look at the most important specs of this new bad boy. As you may guess from the title, the new XPS will make use of a Kaby Lake processor – i3-7100HQ, i5-7300HQ or i7-7700HQ. Additionally, the gaming notebook will ship with a GeForce GTX 1050 (up to 4GB VRAM). A combination that we are really eager to test, indeed. Dell claims that this is the most powerful XPS laptop they've ever built and it seems there is a very good reason for that. What's more, this model will come with a 15-inch Ultra HD display (3840×2160 pixels) to immerse you to a greater depth in the world of virtual reality.