Dell Inspiron 15 7567 took the 2nd place in our Top 50 Laptops with the best Battery Life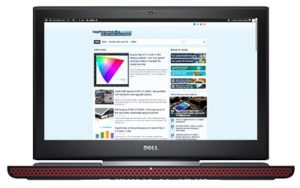 It was only yesterday that we published our comprehensive review of the new Dell Inspiron 7567 and, as you may know, in these detailed publications we share with you the results we have gathered from all the in-depth tests, including battery checks.
It is namely the latter that made us write this short publication for you. This wonderful new machine took the 2nd place in our Top 50 Laptops with the best Battery Life chart.
If you happen to show interest in Dell Inspiron 7567, you can find some of the available configurations here: http://amzn.to/2mQUGQK
As you may very well know, if you are a follower, all battery tests were performed using the same settings as always – Wi-Fi constantly running, screen brightness set to 120 cd/m2 and Windows battery saving feature turned on. If we have to tell you the whole truth, we were not expecting such a mind-blowing outcome. However, Inspiron 7567's battery unit with a capacity of 74 Wh managed to support the demanding 45W TDP quad-core Core i7-7700HQ processor and the Full HD TN panel for a good deal of time. Perhaps the TN display contributes to these favorable runtimes as it is more energy-efficient than IPS panels.
Now let us quote a few of the actual results – you can get up to 768 minutes (12 hours and 48 minutes) of Web browsing, 613 minutes (10 hours and 13 minutes) of video playback and 215 minutes (3 hours and 35 minutes) of 3D gaming. Amazing, indeed!
And here is a photo of the battery unit in question: