Dell Inspiron 5558 has decent battery life given the battery capacity and Full HD screen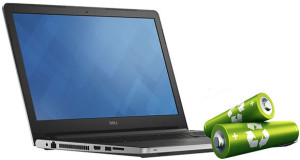 The Dell Inspiron 5558 (15 5000) is a mid-range multimedia notebook, targeted at the general consumer market. The unit we have in our lab comes with a seemingly small 4-cell 40Wh battery, which has to power an Intel Core i7 CPU, discrete NVIDIA GeForce 920M GPU, and a 15.6" Full HD IPS screen. We did not expect very high results, as the discrete graphics card and the Full HD IPS screen need more juice than the usual 1366 x 768 HD TN panels and integrated Intel HD Graphics found in most mid-range notebooks on the market, but the Inspiron 5558 got some pretty decent results.
In our Web browsing test with an automated script for browsing through over 70 websites, we got a result of 266 minutes (4 hours and 26 minutes). Watching HD movies will drain the battery for 280 minutes (4 hours and 40 minutes), and if you want to play some 3D games (for our test we use Metro Last Light at low setting), you will be able to do it for only 76 minutes (1 hour and 16 minutes). We run all our battery tests under the same conditions – Wi-Fi turned on and connected, Bluetooth – off, Power Saver mode on, and screen brightness set to 120 cd/m2.