Dell Inspiron 7567 is almost the same notebook as 7566 but with GTX 1050 Pascal graphics (+ prices for USA and Europe)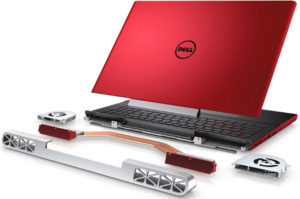 Dell Inspiron 7566 didn't have a very long life and the just released GTX 1050 / 1050 Ti graphics cards are the sole reason for that. No one is ready to buy a new notebook with an old GPU (GTX 960M) knowing that GTX 1050 is 15-30% faster, especially when the price remains the same. And this is just what happened with the new Inspiron that got a slightly different name – 7567 instead of 7566.
We stumbled upon an offer in Europe where а Polish online store is selling the updated GTX 1050 variant for 4300 PLN (985€ / $1039), equipped with an Intel Core i5-7300HQ processor, 8GB RAM and 1TB HDD. You also have a 15.6-inch Full HD screen and pre-installed Windows 10.
Here comes the next difference – the new Inspiron 7567 has 2% smaller battery – 6333 mAh, while its predecessor has 6480 mAh capacity. However we doubt that anyone will spot the difference in the battery life.
Dell announced a starting price of $799 for USA so the 985€ tag for Europe comes a bit unexpected but we think that better offerings will pop up in several days and the starting price for the Old Continent will be around 799€.
You can check whether the Inspiron 7567 has been released in your country through this link:
http://amzn.to/2hVg1UR