Dell launches a limited edition Precision 5520 to celebrate the 20th anniversary of the series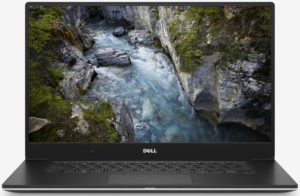 That's right, folks, it has been 20 years since the first Dell Precision workstation was released to the market. The company will celebrate this milestone by launching a Precision 5520 Anniversary Edition in limited quantities.
The limited edition Precision 5520 is a high-end notebook dubbed as the world's thinnest and lightest mobile workstation. It measures just 0.44″ (11.1 mm) in thickness and weighs 3.93 lbs. Don't be fooled by the small form factor, the Precision 5520 packs some serious hardware inside its thin chassis.
The 15.6-inch display has 4K resolution (3840 x 2160p) and incorporates an IGZO panel – the ones we find in the Razer Blade family. The hearth of the Precision 5520 is the Intel Core i7-7820HQ (2.90 – 3.90 GHz, 8MB) backed up by up to 32 GB of upper fast DDR4 RAM. Of course, a workstation is equipped with a dedicated graphics card but not with any of the consumer-grade ones we are used to, instead is packs the professional NVIDIA Quadro M1200. The base model starts with 256 GB of M.2 PCIe SSD but storage can be upgraded up to 1 TB. You get Windows 10 Pro (64-bit) preinstalled. And last but not least, you get a huge 97 Wh battery with ExpressCharge technology.
Dell Precision 5520 Anniversary Edition comes at a starting price of $2179 but supply is limited so if you are considering purchasing one you better hurry.
Meanwhile, you can check out all currently available Dell notebooks over here: http://amzn.to/2uUKVGA