Google's new image compression technology could save you up to 75% of mobile data without reducing quality
Alphabet Inc. an affiliate of Google is working on a new technology for compressing images that will allow high-quality HD images to consume less mobile data. Unfortunately, for now, the feature is limited to Google+ social media but we may see it elsewhere like in the Chrome browser in the near future.
The new image compression technology is called RAISR (Rapid and Accurate Super Image Resolution). The company claims that the technology can save up to 75% of the bandwidth without compromising quality. RAISR creates a duplicate of the image using only 1/4 of the pixels and then it restores all details.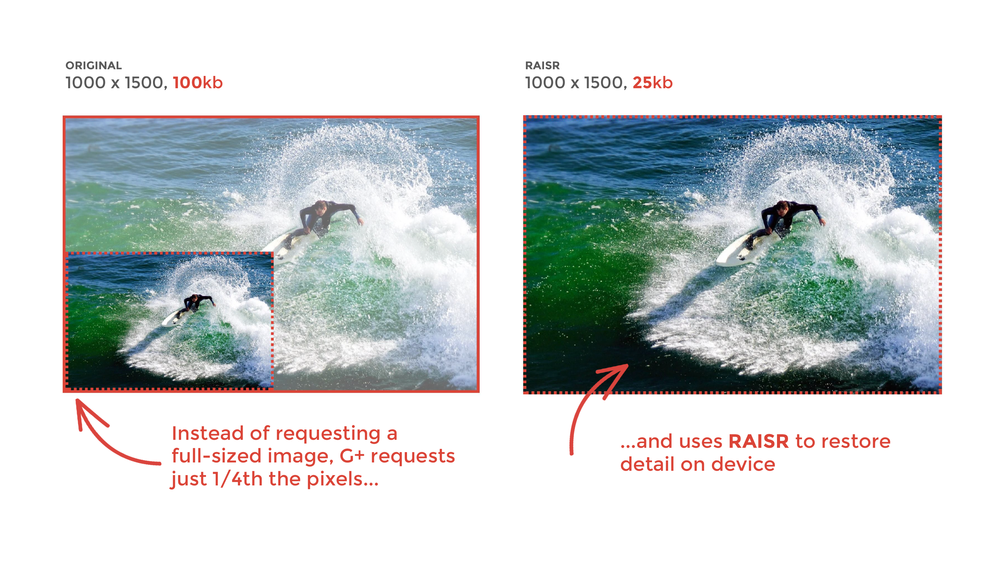 You can read the Google post here: https://www.blog.google/products/google-plus/saving-you-bandwidth-through-machine-learning/
This is what it has to say:
"While we've only begun to roll this out for high-resolution images when they appear in the streams of a subset of Android devices, we're already applying RAISR to more than 1 billion images per week, reducing these users' total bandwidth by about a third. In the coming weeks we plan to roll this technology out more broadly — and we're excited to see what further time and data savings we can offer."
This means we can expect to start using RAISR broadly in the following months. What do you think about this new technology? Leave us a comment below.
Maybe this technology will work best with Chromebooks. If you are interested you can check some of them here: http://amzn.to/2jb4rHB