HDMI 2.0b is coming out and here's what you need to know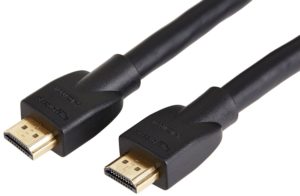 The major manufacturers on the market have agreed upon and ratified a major update to the HDMI connectivity. The version is called 2.0b and despite the growing popularity of USB-C connectors and DisplayPorts, the HDMI standard isn't quite dead. In fact, the new version will bring a lot of useful updates on the table.
For instance, one of the most important new features is the support of High Dynamic Range (HDR) video, which will come very useful to users with 4K UHD HDR-enabled TVs that play their content using a different device, like the notebook. Also, the bandwidth is increased to 18Gbps but the best part is that it will support 4K content running at 50 or 60 fps. The sound department also receives a big bump in specs along with the supported video aspect ratio. The latter changes are all cinema experience-driven in order to bring the big screen experience as close as possible. Here's the list of all new features:
– Enables transmission of High Dynamic Range (HDR) video
– Bandwidth up to 18Gbps 4K@50/60 (2160p), which is 4 times the clarity of 1080p/60 video resolution
– Up to 32 audio channels for a multi-dimensional immersive audio experience
– Up to 1536kHz audio sample frequency for the highest audio fidelity
– Simultaneous delivery of dual video streams to multiple users on the same screen
– Simultaneous delivery of multi-stream audio to multiple users (Up to 4)
– Support for the wide angle theatrical 21:9 video aspect ratio
– Dynamic synchronization of video and audio streams CEC extensions provide more expanded command and control of consumer electronics devices through a single control point
We missed mentioning that the 2.0b standard is fully backwards compatible, meaning that you don't need to buy a new cable to support the newer features.