HP introduces the Omen X – a high-end gaming notebook designed for overclocking and upgrading (+detailed specs)
Today at Gamescom, HP launched its new high-end gaming notebook – the Omen X. The HP Omen X is a truly gamer-centric machine equipped with all the features an enthusiast would like. HP advertises that the Omen X is designed for overclocking and upgrading. You can overclock the processor, the graphics card and even the memory and one easy to remove panel stands between you and the storage options and RAM modules.
You can check out all HP Omen products over here: http://amzn.to/2g16ct6
The new gaming notebook will have a starting price of $1999 for the base model that goes up to $3699 for the best-equipped model. The base model offers you a 17.3-inch Full HD (1920 x 1080p) display with 120 Hz refresh rate and G-Sync support. The graphics chip you will get is the GeForce GTX 1070 and the CPU is the quad-core Intel Core i7-7700HQ. This is backed by 16 GB of DDR4 RAM and 256 GB of PCIe NVMe M.2 SSD + 1 TB HDD (7200 rpm).
You can find detailed specs for every HP OMEN X configuration here: http://laptopmedia.com/series/hp-omen-x/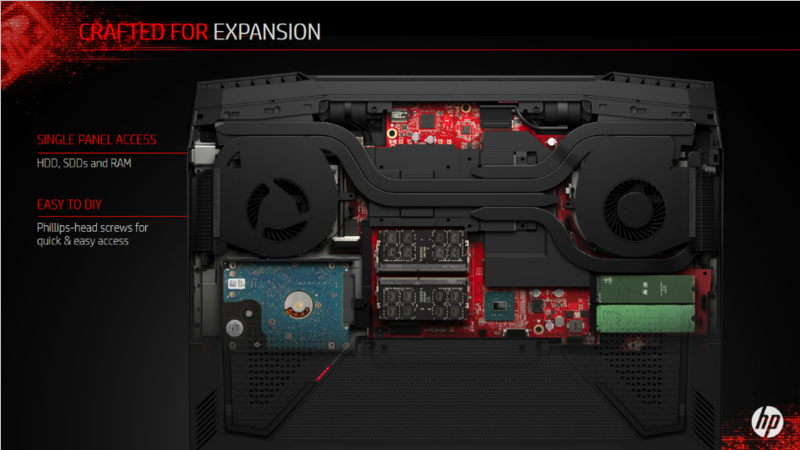 The other two configurations of the Omen X come with a 4K (3840 x 2160p) resolution and G-Sync support, however, the refreshed rate is set down to the usual 60 Hz. You also leave the GTX 1070 behind and opt for the GTX 1080 instead. For the processor you get two options – the mid-tier configurations remain with the Core i7-7700HQ but the high-end one is equipped with an unlocked for overclocking Core i7-7820HK (you can check our comparison between the two CPU here). Both configurations feature 32 GB of DDR4 RAM.
Storage options on the 4K configurations are particularly interesting. The mid-tier configuration features a 2 TB HDD and 256 GB of PCIe NVMe M.2 SSD. The monstrous $3699 configuration gets you a total of 3 TB of storage space that includes a 1 TB HDD and two 1 TB PCIe NVMe M.2 SSDs in RAID 0.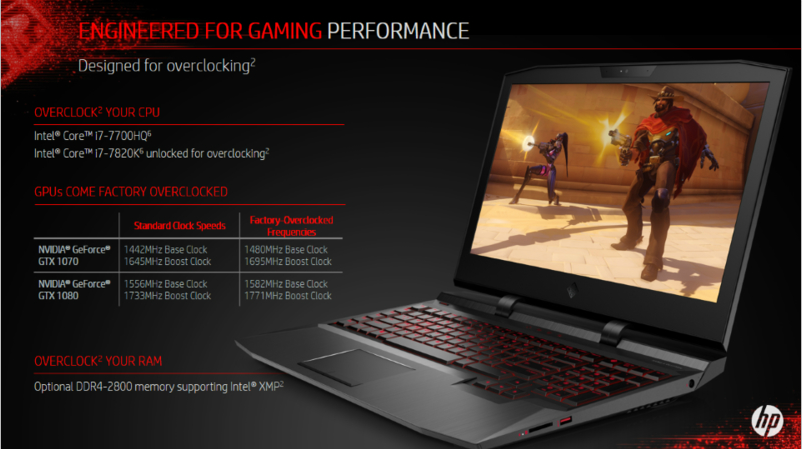 Of course, the Omen X won't be such an amazing gaming notebook if it didn't have some special feature. For instance, the mechanical keyboard with 2.5mm key travel and highly-customizable RGB illumination. For more immersive gaming experience, the HP Omen X features DTS Headphone support for simulated surround sound when using headphones and stereo speakers enhanced by Bang & Olufsen. You have two USB Type-C Thunderbolt ports, an HDMI with HDR support and a mini DisplayPort so you have a variety of options for connecting up to three screens simultaneously. Of course, the Omen X is also VR-ready even for its base model.
Meanwhile, you can check out all HP Omen products over here: http://amzn.to/2g16ct6