HP refreshes its gaming laptops and notebooks with new designs and hardware, new peripherals too
Finally, HP refreshes ist lineup of gaming devices. We will get a new design which makes it look even more aggressive and of course, more powerful up do date hardware.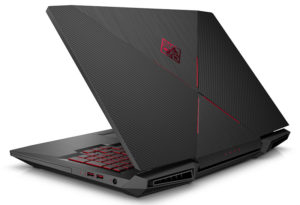 Let's start with the gaming notebooks. These are the familiar HP Omen 15 and 17. The HP Omen 15 is said to be built using the new NVIDIA Max-Q design however it is 24.8 mm thick which isn't a lot but it is certainly not something we aren't used to. This 24.8 mm aggressive-looking chassis is home to an Intel Core i7-7700HQ processor from the latest 7th  Kaby Lake generation and a NVIDIA GeForce GTX 1060 graphics card (6 GB of VRAM) which makes the notebook VR-ready. You will be able to order yours equipped with a GTX 1050 Ti, 1050 or AMD Radeon RX 550 if you like to.
You also get a few display options – you can go for a 4K display or a Full HD one with 120 Hz refresh rate and NVIDIA G-Sync supported. If you go for an AMD graphics card you can choose a 60 Hz Full HD display with AMD's FreeSync technology. These options are the same for both the Omen 15 and 17.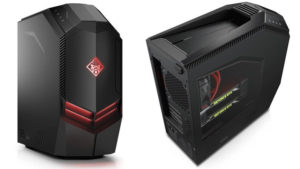 Speaking of Omen 17, the bigger more powerful gaming notebook of the two will be equipped with GeForce GTX 1070 or AMD Radeon RX 580 graphics. It will also be rather thick measuring a profile of 33 mm.
Let's move on to the desktop PC offerings from HP. The HP Omen Desktop is an enthusiastic gaming beast which can feature up to two GeForce GTX 1080 Ti graphics cards in SLI configuration and an unlocked Kaby Lake Core i7 processor. However, you can opt for the AMD version with a Ryzen processor and two Radeon RX 580 cards in CrossFire.
The aggressive gaming design allows the addition of liquid cooling to keep the hardware cool even trough intense gaming moments.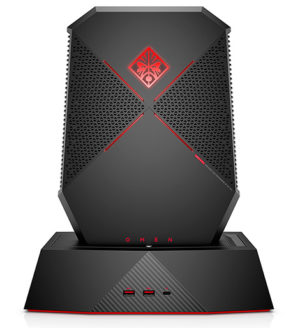 HP also revealed the Omen X Compact Desktop which is a fully-functional small form factor desktop PC which can be docked and used as a regular PC or worn as a backpack to provide VR experience on the go. Of course, you get a Kaby Lake processor and up to a GTX 1080 GPU.
HP announced two new gaming monitors as well. The Omen 25 is a 25-inch Full HD monitor with 144 Hz refresh rate and AMD FreeSync technology available. The bigger 27-inch Omen 27 bumps up the resolution to QHD and the refresh rate to 165 Hz. It also is NVIDIA G-Sync-enabled.
You can also get a trio of matching Omen peripherals – the mechanical keyboard Omen Keyboard 1100, the Omen Mouse 600, and the Omen Headset 800.
Unfortunately, pricing and availability are not yet disclosed. Meanwhile, you can check all HP products over here:
http://amzn.to/2s3qKGk