HP unveils its new Pavilion all-in-one PCs with an updated design approach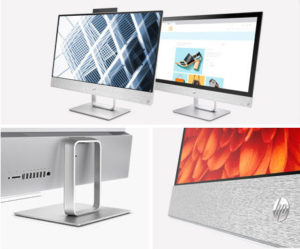 HP announces its new Pavilion all-in-one desktop computers. They will now sport a more premium look with a revamped design and slim bezels. There will be three available models – one Pavilion 27 and two version of the Pavilion 24. As you can guess, the number associated with the Pavilion lineup resembles the screen size in inches.
The most important aspect of the updated design is the screen bezel. HP has adopted the sleek- looking edge-to-edge design with its new range of Pavilion AiOs. Particularly interesting is one of the two Pavilion 24 models which has an almost bezel-less design. The so-called micro-edge display has a bezel just 8.5 mm thick which results in a beautiful look and amazing viewing experience.
The other Pavilion 24 model and the 27-inch version have a slightly thicker bezel but still very thin. However, they can be configured with a QHD display while the micro-edge Pavilion 24 supports only Full HD resolution.
The stand of the AiOs is also interesting – a U-shaped aluminum frame with a satin finish. It allows the screen to be tilted so it can provide you with a best suitable viewing experience.
Spec-wise the new Pavilion AiOs will feature a seventh generation Intel Core processor and an optional AMD Radeon 530 GPU. This will be backed up by up to 16 GB of RAM and a fast SSD or HDD. One interesting feature is the privacy camera which can be used for security via Windows Hello and video conversations. The cameras pop up only when being used.
The starting price of the new Pavilion AiOs will be $749. You can check out all HP all-in-one PCs over here: http://amzn.to/2vejskK