HP's gaming Omen 15 (2016) laptop with surprisingly long battery life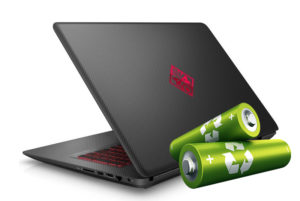 Gaming laptops aren't usually associated with long battery life but as always, there are some exceptions. It appears that HP's Omen 15 (2016) is one of those as it boasts a big battery unit rated at 63.3Wh, which is able to keep the lights one for quite some time.
You can find the available configurations and their prices here: http://amzn.to/2so9DP3
Despite the energy sipping quad-core Intel Core i7-7700HQ CPU and the 15.6-inch Full HD IPS panel, the laptop was able to score some impressive runtimes on our web browsing and video playback tests. When it comes to web browsing, the laptop should be able to pull out 567 minutes (9 hours and 27 minutes) but if video playback is involved, it should last about 403 minutes (6 hours and 43 minutes). All tests, of course, were conducted in "controlled environment" – Wi-Fi constantly running, Windows battery saving feature switched on and screen brightness set to 120 cd/m2.
If you are interested, you can read the full review of the notebook here.