HP's ultra-thin Spectre ultrabook expectedly houses a small battery pack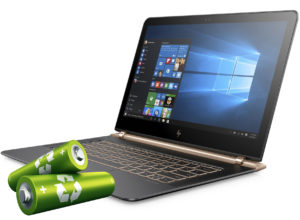 When looking at a progressive device with interesting new looks and design, you'd guess that there are some design limitations and the case with HP's new Spectre is just like that. With the incredibly thin profile of just 10.4 mm surpassing even some smartphones and weight of just 1.1 kg, the laptop isn't able to house all the top-notch hardware and there are some sacrifices that should be made and battery life is one of them.
You can find the notebook's price and configurations here: http://amzn.to/291fK1T
The ultrabook adopts a small 4-cell 38Wh unit, which needs to power up a 13.3-inch IPS panel and a 15W Core i5 or Core i7 CPU from the ULV lineup from Intel. It seems doable but all those pixels on the Full HD or the Quad HD version are draining the battery really fast. For instance, entry-level laptops have similar battery units but usually, they support less demanding hardware. Anyway, our tests results show sub-par battery performance when it comes to web browsing (298 minutes (4 hours and 58 minutes)) but somehow keeps pace with the competition on video playback (408 minutes (6 hours and 48 minutes)).
However, keep in mind that the results don't necessarily represent real-life usage because we run our tests in a controlled "environment" – with Wi-Fi turned on, battery saver turned on and screen brightness set to 120 cd/m2 – in order to make a better comparison between competing models. Your usage may differ from our test results and it's also important to mention that the notebook is an engineering sample so battery performance might go up in the end user units.
First impressions of HP Spectre 13 (2016) – definitely not your ordinary Spectre machine:
http://laptopmedia.com/highlights/first-impressions-of-hp-spectre-13-2016-definitely-not-your-ordinary-spectre-machine/