Initial tests show that LG G4's display does offer a lot of improvement over LG G3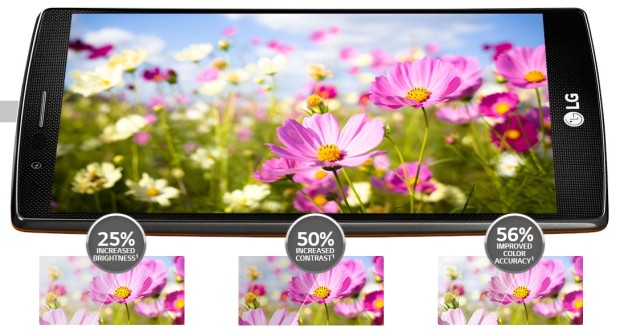 When LG G3 was released last years it got all eyes on the screen, but, to be honest, this was the last feature that comes to our mind. It was somehow lackluster – the maximum brightness isn't what we consider for comfortable use outdoors and it had a lower contrast ratio than expected.
However, this year's G3 successor should right the wrongs in this department and our tests confirm this. LG says LG G4's screen has deeper blacks, whiter whites, better contrast, better color reproduction and higher maximum brightness. Well, they were right about all of that, except the color accuracy. Results from our lab just came in that the average DeltaE 2000 equals to 2.12 and G3 last year got 2.67 (lower is better). This means that LG G4's screen actually has a minor and insignificant improvement in this area.
The same cannot be said about other results, though. LG G4's screen scored better in terms of brightness (515 cd/m2 vs 436 cd/m2) and we can say that this small bump in the luminance delivers a much better viewing experience outdoors. Black and white colors look way cleaner and the contrast is greatly improved. Also, LG is saying that the new G4 covers a larger portion of the color gamuts, but this isn't quite true. The G3 has 97% coverage of the sRGB and 74% of the Adobe RGB, while the G4 got the same result for the sRGB and 4% lower of the Adobe RGB. If anything, G4 has scored slightly lower in this aspect. Still, that's a good result that has to be noted. And finally, no PWM across all brightness levels as you can see on the graph below.

For more detailed information, you will have to wait for our full review on the model. We also have some good insight about the camera – it really looks like a game changer.