Inside ASUS ZenBook Flip UX360 – disassembly, internal photos and upgrade options
The ASUS ZenBook Flip UX360 doesn't pose any problems when disassembling them but there are a few tricky parts for which you should watch out. And given the thin and light chassis, there isn't too much hardware to look for.
You can find the available configurations here: http://amzn.to/1XHSwS8
1. Detaching the bottom cover
Detaching the bottom cover is a fairly easy task but you need a very small torx screwdriver. And when you are finished unscrewing the bolts, have a peek under the silicone legs near the hinge. They need to be removed – as shown in the photo below – in order to detach the bottom piece.
Then, you should watch out for two cables attached to the motherboard. They will probably be glued to the keyboard tray so be careful when removing them.
2. Battery, M.2 SSD, RAM, Wi-Fi module
The notebook basically has one upgrade option – the M.2 SSD. It uses the SATA standard in a 2280 form factor and the connector on the motherboard uses an M-edge key. The stock drive is Lite-On with CV1-8B256 with 256GB capacity.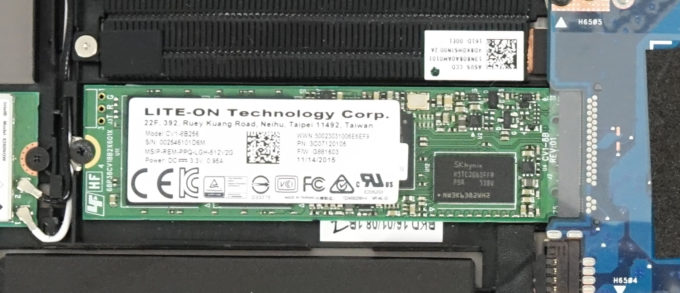 The battery takes up more than ~70% of the internal space and it's rated at 54Wh. Our early tests show that the battery endurance is really high and surpasses the one of its predecessor ASUS ZenBook UX305.
The Wi-Fi module is located right next to the M.2 stick and it's Intel with model number 8260NGW.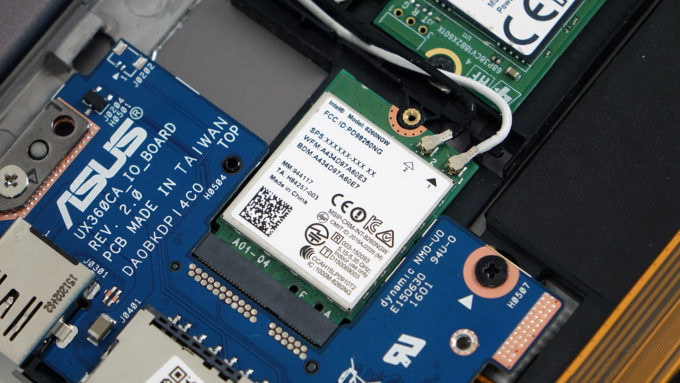 3. Cooling system
There isn't much we can say about the cooling system – it's a passive one, which means no fans. The chip uses only one heat sink positioned right next to the hinge and above the SSD stick. We hope the temperatures will not affect the SSDs performance during long hours of usage.