Intel claims a 30% performance improvement for their 8th generation Coffee Lake chips
Intel claimed that their 8th Core Architecture generation would provide an up to 30% improvement over the previous Kaby Lake chips, while they themselves were, as claimed by Intel, 15% faster than their preceding chips, namely the 6th Gen Skylake.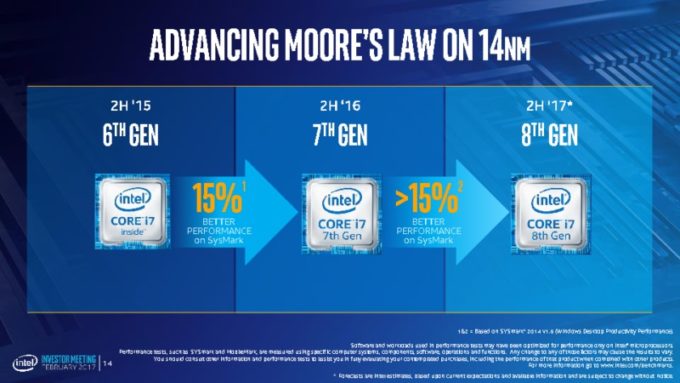 As we've seen in the past, however, such marketing claims aren't a be-all-end-all general performance estimate, improving everything in a chip by whatever percent they claim, but rather a best case scenario in a "cherry-picked" benchmark.
As we take a look at this particular generous claim, that may well be the case again. The 30% improvement with Coffee Lake is shown only in a single benchmarking suite called SYSmark 2014 version 1.5.
We can't yet tell what that actually means for real world use, we don't know if the chips will overclock higher or what kind of IPC improvements they'll bring, the only rumours we've heard circulate the web is that the 8th Gen Coffee Lake microarchitecture might be bringing 6 physical cores to the mainstream market, unlike previous generations where we only had a 4 core/8 thread chip on flagship position.
You can check out some of Intel's microprocessor and other offerings here
Taking the wild gander at it, we're  inclined to say that given improvements in the manufacturing process and what we've heard about the decrease in L2 cache in favour of increased L3 cache to preserve die space and keep profit margins, some applications may benefit from decreased latency, while others can take advantage of the larger cache. Whether these applications are useful to you or not, that remains to be seen upon release and thorough reviews.