Intel Core i5-6300HQ is already in our Top Laptop CPU ranking system and it's the fastest i5 out there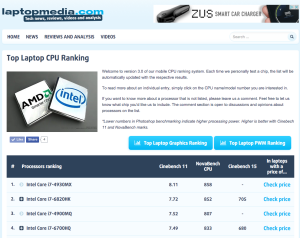 Before publishing our in-depth review of Dell Inspiron 7559 (while waiting you can read our first impressions), we'll share some raw performance numbers. We chose the configuration with Core i5-6300HQ from Intel since its lower price and decent performance make it a great choice for gamers with a limited budget. Core i5-6300HQ won't be a bottleneck in the latest games and you can take advantage of GeForce GTX 960M with GDDR5 memory at a great price.
It turned out that 6300HQ is the fastest i5 CPU we have tested and it's considerably more powerful than all of the ULV models in our rankings, Core i7 included. For example, Intel Core i7-6500U has 3.50 points in Cinebench against 5.39 points for Core i5-6300HQ (an increase of 54%). 6300HQ is almost as powerful as Core i7-4702MQ (standard voltage, not ULV), which is leading by 0.95 points or 18%.
Dell Inspiron 7559 is also available in configuration with Intel Core i7-6700HQ, which in our ranking system leads Core i5-6300HQ by 39% in Cinebench 11.
Check out our full Top Laptop CPU Ranking list and stay tuned for our detailed review of the notebook.
Dell Inspiron 7559 can be bought at Amazon.com:
http://amzn.to/1JKxNr3