Intel Core i5-6300U has been added to our rankings, offers marginally better performance over the Core i5-6200U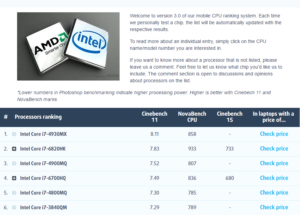 While we are currently testing out the new Dell Latitude E5570, we decided to run a bunch of performance tests to see how Intel's Core i5-6300U performs and what place will it take in our CPU ranking table. Of course, just by looking at the clock speeds, the Core i5-6300U offers marginally better performance than its earlier Core i5-6200U counterpart and our benchmark tests confirm that.
Basically, the Core i5-6300U is largely the same as the Core i5-6200U but with higher clock rates – 2.4 – 3.0 GHz or 2.9 GHz with two active cores. The iGPU is the same – Intel HD Graphics 520 with 24 EUs and the TDP is again 15W but the main difference between the two are the supported set of technologies. The Core i5-6300U boasts the so-called vPro technology from Intel. While it sounds pretty fancy, in reality, the vPro branding is just a marketing umbrella that unites several features from Intel – Hyper-Threading, Turbo Boost 2.0, VT-x, Trusted Execution Technology, and Intel's Active Management Technology.
Anyway, we will make sure to analyze the chip in-depth and compare it to existing and similarly priced processors currently on the market. In the meantime, we suggest visiting our CPU ranking table as well as the Core i5-6300U's dedicated page.